Ad blocker interference detected!
Wikia is a free-to-use site that makes money from advertising. We have a modified experience for viewers using ad blockers

Wikia is not accessible if you've made further modifications. Remove the custom ad blocker rule(s) and the page will load as expected.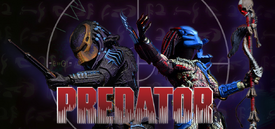 The NECA Predator toys are an ongoing line of action figures and accessories based on the Predator franchise. While the line initially focused on figures from the 2010 film Predators, it has since included a number of figures based on Predator and Predator 2, as well as select comic books and video games in the franchise. Figures have also been released based on the Predator action figure line from Kenner Products and even the fan film Batman: Dead End. A total of fifteen series have been released so far, with a sixteenth confirmed as being on the way, plus a range of 1/4 scale and other figures.
Despite its name, the line also includes several figures based on the Alien vs. Predator franchise, although all of these are Predator figures. Along with its Predator toys, NECA also produces an ongoing line of Aliens figures.
Predators — Battle Damaged Classic Predator
Predators — Unmasked Berserker Predator
Predators — Tracker Predator
Predator 2 — City Hunter (Masked)
Predators — Falconer Predator (Semi-Cloaked)
Predator — Jungle Hunter
Predator — Dutch Schaefer (Jungle Extraction)
Predator — Dutch Schaefer (Jungle Patrol)
Predator — Jungle Hunter (Water Emergence)
Predator — Dutch Schaefer (Encounter)
Predator — Dutch Schaefer (Disguise)
Series 10
Edit
Series 11
Edit
Batman: Dead End — Wasp Predator
Predator 2 — Lost Predator (Armored)
Predator — Dutch Schaefer (Thermal Vision)
Series 12
Edit
Series 13
Edit
Kenner tribute figures — Cracked Tusk Predator
Kenner tribute figures — Renegade Predator
Kenner tribute figures — Scavage Predator
Series 14
Edit
Series 15
Edit
Alien vs Predator — Scar (Masked)
Alien vs Predator — Warrior (Ancient)
Alien vs Predator — Temple Guard
Series 16 (upcoming)
Edit
Kenner tribute figures — Spiked Tail Predator
Kenner tribute figures — Stalker Predator (Glows in the dark)
Kenner tribute figures — Ghost Predator
Series 17 (upcoming)
Edit
Alien vs Predator — Elder Predator
Alien vs Predator — Young Blood Predator
1/4 Scale figures
Edit
Predator — Jungle Hunter (With LED lights)
Predator — Dutch Schaefer (Patrol)
Predator 2 — City Hunter
Predator 2 — Warrior Predator
Predator 2 — Guardian Predator
Predator 2 — City Hunter (Unmasked)
Batman: Dead End — Big Red
Predator 2 — Elder Predator
Predator — Jungle Hunter (Unmasked)
Predator 2 — City Hunter (With LED lights)
Predator — Dutch Schaefer and Jungle Hunter (Final battle) 2-pack
Predator video game — Predator
Predator: Bad Blood — Bad Blood Predator
Predator comic series — Predator (Dark Horse 25th Anniversary)
Predator 2 — Gort (with Trophy)
Predator 2 — City Hunter (Cloaked)
Predator 2 video game — Predator (Video Game Coloration)
Predator and Predator 2 — Jungle Hunter (Unmasked) and City Hunter (Battle damaged) 2-pack
Predators and Predator 2 — Berserker Predator (Semi-Cloaked) and City Hunter 2-pack
Predators — Berserker Predator (Cloaked)
Predator — Jungle Hunter (Cloaked)
Kenner tribute figures — Blade Fighter Vehicle
Batman: Dead End — Albino Predator
Kenner tribute figures — Deluxe Clan Leader
1/4 scale figures
Edit
Other figures
Edit