Ad blocker interference detected!
Wikia is a free-to-use site that makes money from advertising. We have a modified experience for viewers using ad blockers

Wikia is not accessible if you've made further modifications. Remove the custom ad blocker rule(s) and the page will load as expected.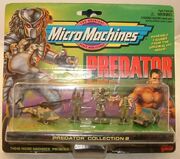 The Galoob Predator Micro Machines toys were a 1996 line of scale miniature toys based on the Predator franchise. A total of three miniature sets, one larger scale Action Fleet vehicle and one Transforming Action Set playset were released before the toy line was cancelled in 1997.
Along with the Predator toys, Galoob also produced a line of Aliens Micro Machines toys.
Micro Machines
Edit
Predator Collection 1:

Invisible Predator
Guerrilla Troop Truck
Predator Collection 3:

Predator
Thermographic Dutch
Guerrilla Truck
Predator Action Set (unreleased)
Predator Action FleetEdit
Warrior Transport

Includes Predator Ambush Squad figures
Transforming Action Set
Edit
Predator

Includes Dutch and Predator figures and Guerrilla Truck vehicle