Predator (comic series)
Talk

0
2,570pages on
this wiki
"Is that damage?"
"It looks like damage."

This article, or a section of this article, does not meet Xenopedia's standards. Please help by improving the page.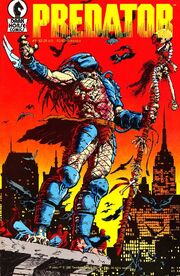 The Predator comic book line is a long-running series of comic books published by Dark Horse Comics based on the Predator franchise. The line has included a number of limited series, one-shots and short stories, starting with the original Predator comic in June 1989.
While six of these stories to date have adapted or expanded upon characters and ideas from the Predator films, most have added new characters and storylines, focusing on widely varied encounters between the Predator species and various individuals from various civilizations throughout the course of human history.
Three of the film-related series have dealt with the brother of Predator hero Alan "Dutch" Schaefer, known simply as Detective Schaefer, and his interactions with the mysterious and secretive Major General Phillips(a character from the film) while fending off Predator attacks around the world.
The comics have also spawned a novel franchise as early comics mini-series were adapted into novel form by Bantam Books, and are now published by Dark Horse itself.
Common Themes
Edit
The Predator comics series and its accompanying novel series, much like the originating Predator film series, have tended to focus mostly on stories told from a human point of view, usually with lone or small numbers of Predators acting as unknown antagonists, visiting the Earth and causing havoc and terror for unknown reasons amongst their human prey. Almost all of these stories have been set on present-day Earth or at different points in human history, with only a very few stories set in the future. (As opposed to the Aliens comics series, in which the opposite is true.)
It is in the Aliens vs. Predator comics series—and their spin-off novelizations—that writers really started to tell stories more from Predator race's point of view and delve further into depictions and revelations about their culture and customs. It is in these comics and novelizations, throughout the 1990s, that what is now known as "Hunter" or "yautja" culture (and even the name "yautja" which comes from the AVP novels) originated, with a degree of varying interpretations depending on the writer. In the 2000s, a new source of information about Predator culture has become the series of AvP video games, as well as the Predator video game Concrete Jungle.
Cross-over history
Edit
Almost immediately after the release of the first Predator mini-series in June 1989, Dark Horse laid the foundation for connecting the Predator franchise with the Aliens franchise, which they had also acquired the rights to and had been producing comics based on since the year before in 1988.
In 1989, in the company's main anthology series Dark Horse Presents, issues #34, #35, featured Alien and Predator stories, and issue #36 featured their first Aliens Vs. Predator story, a prequel to the first full-fledged Aliens Vs. Predator mini-series, which followed shortly.
Since that time Dark Horse has concurrently produced all three titles.
Predator Comics
Edit
Predator: Fire and Stone

Four-issue mini-series published by Dark Horse Comics from October 2014-January 2015. It was written by Joshua Williamson, drawn by Chris Mooneyham, and inked by Dan Brown. Cover art was provided by Lucas Graciano (varian cover by Alex Maleev)
Continuity and the 'Expanded Universe'
Edit
It could be argued by some that it is somewhat unclear whether or not all of the stories from the various Predator miniseries really exist in the same connected fictional universe as the Aliens fictional universe which has developed much more cohesively in Dark Horse's related Aliens, and Aliens vs. Predator comics lines. (Indeed editors from Dark Horse have mentioned that the continuity is not always so tightly knit as in other series.)

This may be due to some slight inconsistencies between Predator mini-series, and between them and their sister franchises, mostly regarding how well known the presence of the alien Predators on present day Earth is by the government and the public, or from other minor plot lines left dangling at the end of various miniseries.

However, most of these issues could probably be sorted out with a minimal amount of ret-conning, though, or by simply assuming that the government has repeatedly done extensive cover-up work after each incident, which is indeed implied and overtly stated in the stories and in their parent films; or by assuming that much of the information on such encounters was lost to humanity or completely covered up by the time of the events of the Alien franchise, which is primarily set in the future.

Overall, while it is clear from a reading that the Predator franchise on its own has been less vigorously edited in terms of connectedness and consistency than Dark Horse's other fictional franchises, such as Star Wars or even sister-franchise Aliens, and references from one story to another are rare.

Still, much of the information generated about the Predator species, their culture and habits, including elements that made their way into the films, has originated in their depcition in the comic book and spin-off novelizations. (This includes even the species name of Yautja which comes AVP comics novelizations.)

As such, while the overall canonicity of all of the Predator comics stories with regard to the overall Aliens vs. Predator universe may be questioned, their impact on the AvP universe cannot be.

Also, most recently, with the release of the 2009-2010 Predator, Aliens and AVP: Three World War stories, a clear effort has been made to strongly establish a connection between all three lines, with connecting references made throughout the stories. Thus establishing that they do indeed all take place in the same universe.
Aliens vs. Predator (Comics Series)
Sources and External Links
Edit
Official Predator Comics Zone at the Dark Horse Comics website. A search on the Dark Horse site will also produce a profile of every Predator comic the company has ever made, including a plot description and cover image, which is basically where every other Predator site gets its comics information.
Predator: The Hunted - One of the most comprehensive listing of Predator Comics and Books online on a very complete Predator fan site
AVPGalaxy Predator Comics Page - A similar listing of Predator comics at another well-established AvP fan site.
An opinionated (and perhaps a bit one-sided) discussion on AvP comics and canonicity at the exhaustively researched website, AbsoluteAvP can be seen in their timeline section here: http://time.absoluteavp.com/