Predator (comic series)
Talk

0
2,499pages on
this wiki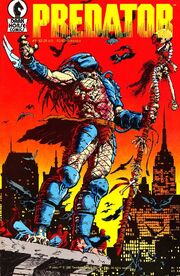 Since 1989, a number of Predator comic book limited series, one shots or short stories have been produced by Dark Horse Comics set in the fictional Predator universe. This most recently includes a new miniseries in 2009 and an official 4-part comic book prequel, 1 part adaptation, and 1-part sequel to the hit 2010 film Predators.
While six of these stories to date have adapted or expanded upon characters and ideas from the Predator films, most have added new characters and storylines, focusing on widely varied encounters between the Predator species and various individuals from various civilizations throughout the course of human history.
Three of the film-related series have dealt with the brother of Predator hero Alan "Dutch" Schaefer, known simply as Detective Schaefer, and his interactions with the mysterious and secretive Major General Phillips(a character from the film) while fending off Predator attacks around the world.
The comics have also spawned a novel franchise as early comics mini-series were adapted into novel form by Bantam Books, and are now published by Dark Horse itself.
Common Themes
Edit
The Predator comics series and its accompanying novel series, much like the originating Predator film series, have tended to focus mostly on stories told from a human point of view, usually with lone or small numbers of Predators acting as unknown antagonists, visiting the Earth and causing havoc and terror for unknown reasons amongst their human prey. Almost all of these stories have been set on present-day Earth or at different points in human history, with only a very few stories set in the future. (As opposed to the Aliens comics series, in which the opposite is true.)
It is in the Aliens vs. Predator comics series—and their spin-off novelizations—that writers really started to tell stories more from Predator race's point of view and delve further into depictions and revelations about their culture and customs. It is in these comics and novelizations, throughout the 1990s, that what is now known as "Hunter" or "yautja" culture (and even the name "yautja" which comes from the AVP novels) originated, with a degree of varying interpretations depending on the writer. In the 2000s, a new source of information about Predator culture has become the series of AvP video games, as well as the Predator video game Concrete Jungle.
Cross-over history
Edit
Almost immediately after the release of the first Predator mini-series in June 1989, Dark Horse laid the foundation for connecting the Predator franchise with the Aliens franchise, which they had also acquired the rights to and had been producing comics based on since the year before in 1988.
In 1989, in the company's main anthology series Dark Horse Presents, issues #34, #35, featured Alien and Predator stories, and issue #36 featured their first Aliens Vs. Predator story, a prequel to the first full-fledged Aliens Vs. Predator mini-series, which followed shortly.
Since that time Dark Horse has concurrently produced all three titles.
Predator Comics
Edit
Predator (a.k.a. Predator: Concrete Jungle)

1-4 by Mark Verheiden, Chris Warner and Ron Randall, June 1989-March 1990

June 1989-March 1990: The events of Predator #1-4 revolve around NYC Detective Schaefer, the brother of Major Alan "Dutch" Schaefer. Detective Schaefer and his partner, Detective Rasche, discover a Predator in New York City during a drug deal gone bad. Schaefer believes the Predator and a mysterious army general have a connection to his brother, Dutch, which leads Schaefer on a hunt into Colombia. There in South America Schaefer has yet another run in with a Predator as well as a Colombian drug lord - an old NYC adversary. Successfully eluding both, Schaefer is transported back to the U.S. only to find a government plot to hand him over to the Predators. Predator #1-4 are collected together as the trade paperback: Predator: Concrete Jungle. It has also been adapted into a novel, and the name has been used for a video game featuring an unrelated story.

Predator: God's Truth

by John Arcudi and Rob Walton, December 1990

Predator 2 (film adaptation)

1-2 by Franz Henkel, Dan Barry and Mark Bright, February 1991-June 1991

Predator: Big Game

1-4 by John Arcudi and Evan Dorkin, March 1991-June 1991

U.S. Army Corporal Enoch Nakai, must rediscover his Navajo roots in a fight to the death with an alien Predator.

Predator: Cold War

1-4 by Mark Verheiden and Ron Randall, September 1991-December 1991

When a Predator spacecraft crashlands in the isolated Northern tundra of Siberia, Detective Shaefer is called upon to aid the US military in capturing the technology. Unfortunately, the Russian forces have their eyes on the craft as well.

Predator: The Bloody Sands Of Time

1-2, by Dan Barry and Chris Warner, February–March 1992

A strange carnage in the Nicaraguan jungle for which an US soldier is blamed responsible leads his defender Central Intelligence Agency operative Griggs Irving to recall similar incidents registered in South Vietnam in 1968 and in France during World War I.

Predator: Rite of Passage

1-2, by Ian Edginton, Rick Leonardi, Dan Panosian and Greg Wright, August 1992-September 1992

A Maasai boy and a young Predator come into conflict during their respective rites of passage. Predator: Rite of Passage was later collected together with Predator: The pride at Nghasa in the Dark Horse Classics special Predator: Jungle Tales.

Predator: Blood Feud

1-4 by Neal Barrett, Jr. and Leo Duranona, November 1992-February 1993

Predator: Race War

0-4 by Andrew Vachss, Randy Stradley, Jordan Raskin and Lauchland Pelle, February–October 1993

After numerous incidents around the country, a team of secretive government agents works to capture a living Predator to study. Recruiting a vigilante-for-hire named Cross to do their dirty work, the team tries to capture a Predator they've tracked to a maximum security prison, where it is hunting murderers in the midst of a race war.

Predator: The Pride at Nghasa

1-2 by Chuck Dixon, Enrique Alcatena, Clem Robins and Chris Chalenor, May 1993-August 1993

Kenya, Late August, 1936. A series of night attacks decimate the workers during the building of a new railroad, prompting a famous hunter, two park rangers and their African assistant to track down and fight what the locals call a 'demon of the forest' that is said to appear only when the 'hunting star' crosses the sky. Predator: The pride at Nghasa was later collected together with Predator: Rite of Passage in the Dark Horse Classics special Predator: Jungle Tales.

Predator: The Hunted City

1-3 by Charles Moore and D. Alexander Gregory, December 1993-February 1994

Predator: Bad Blood

1-4 by Evan Dorkin and Derek Thompson, December 1993-June 1994

Predator: Blood on Two-Witch Mesa

1-2 by Terry LaBan and Howard Cobb, April–May 1994

Predator: Invaders from the Fourth Dimension

One Shot by Jerry Prosser, Jim Somerville and Brian Garvey, July 1994

Dark Horse Classics - Predator: Jungle Tales

One shot reprint issue, March 1995

Predator: 1718

One Shot by Henry Gilroy and Igor Kordey, July 1996

Predator: Dark River

1-4 by Mark Verheiden and Ron Randall, July 1996-October 1996

Predator: Strange Roux

One Shot by Brian McDonald and Mitch Byrd, November 1996

Predator: Kindred

1-4 by Jason R. Lamb and Scott Tolson, December 1996-January 1997

Kindred follows the events centering on the extremely ordinary town of Fleener Creek, Oregon. The town remains ordinary until a Predator returns after 30 years drawing into action Buddy Wilcox, a family man who has a personal agenda against this particular Predator. Sheriff Kelly Mathis hunts a serial killer named McCutcheon who is now, not only on the run from the authorities, but on the run from a Predator as well.

Predator: No Beast So Fierce

One Shot by Mike W. Barr, Scott Kolins, and Dan Schaefer, March 1997

Predator: Hell and Hot Water

1-3 by Mark Schultz, April 1997-June 1997

Predator: Primal

1-2 by Kevin J. Anderson, Scott Kolins and John Lowe, July 1997-August 1997

A wild duel ensues when a Predator runs into the path of an angry Grizzly Bear mother during a hunting season in Alaska.

Predator: Bump in the Night

One shot by Steve Seagle, Duncan Rouleau and Jim Royal, August 1997

Predator: Nemesis

1-2 by Gordon Rennie and Colin MacNeil, December 1997-January 1998

Predator: Hell Come a Walkin'

1-2 by Nancy Collins, Dean Ormston, February 1998-March 1998

Predator: Captive

One Shot by Gordon Rennie and Dean Ormston, May 1998

Billionaire industrialist Tyler Stern holds the only known captive Predator in a controlled biosphere where he can study the alien killing machine in its own habitat.

Predator: Demon's Gold

One shot by Ron Marz and Claudio Castellini, November 1998

Predator: Homeworld

1-4 by Jim Vance and Kate Worley, March 1999-June 1999

Predator: Xenogenesis

1-4 by Ian Edginton and Mel Rubi, August 1999-November 1999

Predator (Series 2)

1-4 by John Arcudi and Javier Saltares, June 2009-January 2010

Predators

1-4 by Marc Andreyko and David Lapham, June 2010

The comic is a prequel to the events depicted in the film Predators. A team of Navy Seals is in the midst of a firefight when it suddenly goes dark. They awake to find themselves in a new and more deadly environment, stalked by a strange enemy. One by one these special-ops officers are killed by an unseen threat, until only one man remains. All alone in a strange world, he must do what he knows best survive against all odds.

Predators (film adaptation)
Predators: Preserve the Game

One shot by David Lapham and Allan Jefferson, July 2010

Officially licensed sequel to the events depicted in the film Predators.
Continuity and the 'Expanded Universe'
Edit
It could be argued by some that it is somewhat unclear whether or not all of the stories from the various Predator miniseries really exist in the same connected fictional universe as the Aliens fictional universe which has developed much more cohesively in Dark Horse's related Aliens, and Aliens vs. Predator comics lines. (Indeed editors from Dark Horse have mentioned that the continuity is not always so tightly knit as in other series.)

This may be due to some slight inconsistencies between Predator mini-series, and between them and their sister franchises, mostly regarding how well known the presence of the alien Predators on present day Earth is by the government and the public, or from other minor plot lines left dangling at the end of various miniseries.

However, most of these issues could probably be sorted out with a minimal amount of ret-conning, though, or by simply assuming that the government has repeatedly done extensive cover-up work after each incident, which is indeed implied and overtly stated in the stories and in their parent films; or by assuming that much of the information on such encounters was lost to humanity or completely covered up by the time of the events of the Alien franchise, which is primarily set in the future.

Overall, while it is clear from a reading that the Predator franchise on its own has been less vigorously edited in terms of connectedness and consistency than Dark Horse's other fictional franchises, such as Star Wars or even sister-franchise Aliens, and references from one story to another are rare.

Still, much of the information generated about the Predator species, their culture and habits, including elements that made their way into the films, has originated in their depcition in the comic book and spin-off novelizations. (This includes even the species name of Yautja which comes AVP comics novelizations.)

As such, while the overall canonicity of all of the Predator comics stories with regard to the overall Aliens vs. Predator universe may be questioned, their impact on the AvP universe cannot be.

Also, most recently, with the release of the 2009-2010 Predator, Aliens and AVP: Three World War stories, a clear effort has been made to strongly establish a connection between all three lines, with connecting references made throughout the stories. Thus establishing that they do indeed all take place in the same universe.
Aliens vs. Predator (Comics Series)
Sources and External Links
Edit
Official Predator Comics Zone at the Dark Horse Comics website. A search on the Dark Horse site will also produce a profile of every Predator comic the company has ever made, including a plot description and cover image, which is basically where every other Predator site gets its comics information.
Predator: The Hunted - One of the most comprehensive listing of Predator Comics and Books online on a very complete Predator fan site
AVPGalaxy Predator Comics Page - A similar listing of Predator comics at another well-established AvP fan site.
An opinionated (and perhaps a bit one-sided) discussion on AvP comics and canonicity at the exhaustively researched website, AbsoluteAvP can be seen in their timeline section here: http://time.absoluteavp.com/