Predator (1987 video game)
Talk

0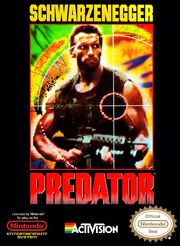 Predator is a 1987 video game published by Activision and based on the 1987 film of the same name.
The game was released for the Amstrad CPC, Commodore 64, Nintendo Entertainment System and ZX Spectrum in 1987, the Atari ST BBC Micro and MSX in 1988 and the Amiga in 1989.
Players earn the role as Dutch as he battles his way to survive, and finally defeat the Predator.
The final boss in the game is a giant Predator head.