Predator: The Pride at Nghasa
Talk

0
2,617pages on
this wiki
Predator: The Pride at Nghasa was a three-part story published by Dark Horse Comics from May-Aug. 1993 in the company's self-titled anthology series Dark Horse Comics #10-12. It was written by veteran comics writer Chuck Dixon, illustrated by Enrique Alcatena and colored by Chris Chalenor. The issues were edited by Bob Cooper, Jerry Prosser & Dick Hansom.
Predator: The Pride at Nghasa was later collected together with Predator: Rite of Passage in the Dark Horse Classics special Predator: Jungle Tales in March 1993. It was also collected in Predator Omnibus, Vol. 1, in June 2008.
In the Predator comics line, The Pride at Nghasa was published concurrently with Predator: Race War (Feb.-Oct. 1993) and followed by Predator: The Hunted City (Dec. 1993-Feb. 1994) and Predator: Bad Blood (Dec. 1993-June 1994).
Kenya, Late August, 1936. A series of night attacks decimate the workers during the building of a new railroad, prompting a famous hunter, two park rangers and their African assistant to track down and fight what the locals call a 'demon of the forest' that is said to appear only when the 'hunting star' crosses the sky.
Behind the Scenes
Edit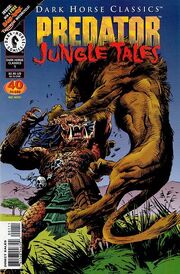 Well-known comics writer Chuck Dixon is perhaps best known for his work with Batman during his run as writer on DC's
Detective Comics
. He has worked extensively with various other characters for Marvel, DC and other companies throughout his career.