Predator: The Hunted City
Talk

0
2,617pages on
this wiki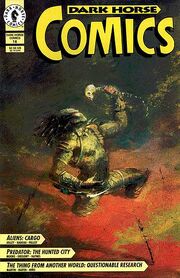 Predator: The Hunted City
was a three-part story published by
Dark Horse Comics
in its self-titled anthology series
Dark Horse Comics
#16-#19 from December 1993 - February 1994. The story was written by
Charles Moore
, illustrated by
D. Alexander Gregory
, and edited by
Randy Stradley
and
Edward Martin III
. The first issue featured a painted
Predator
cover by artist
George Pratt
.
It was eventually collected in Predator Omnibus: Volume 2 in February 2008.
The story is set in gangland New York City in the 1940s and has a predator squaring off against a mobster and a yellow journalist of the time.
In the Predator comics line, The Hunted City was published concurrently with Predator: Bad Blood and was followed by Predator: Blood on Two-Witch Mesa.
Official description of individual issues:
Tony Vincenzo is what you might call "a family man." So is Bernie Jinks. Up until now, they had their own little disputes in the heart of Manhattan. But this time around someone's knocking off both Vincenzo's and Jinks' boys. Vincenzo's in the slammer, but he isn't telling everything. The truth is too unbelievable. But he has a plan. Don't miss this issue's premiere of "Predator: The Hunted City."
Part 2 of "Predator: The Hunted City" continues as Max is pursued by warring families, each intent on discovering who or... what... has been killing them off. The only thing they know for sure is that Max knows more than he's telling -- and they'll beat it out of him if they have to.
And finally, everybody on the streets knows that Tony Vincenzo always finishes a fight. In the taut conclusion to "Predator: The Hunted City," he gets his chance.
Behind the Scenes
Edit

The Hunted City may easily be said to be a precursor to the popular video game Predator: Concrete Jungle, which also features a 1930s-Predator-vs.-gangsters theme.