"AVAILABLE DATA INSUFFICIENT"

This article is a stub or needs expansion. Help Xenopedia by expanding it.
Specific Expansion Needed: Plot section required
Predator: Life and Death is a four-issue limited comic book series that was first published by Dark Horse Comics from March-June 2016. It was also published simultaneously in the digital format via Dark Horse Digital. The story was written by Dan Abnett, illustrated and inked by Brian Thies, colored by Rain Beredo, lettered by Michael Heisler and edited by Randy Stradley, with cover art by David Palumbo. Sachin Teng, Doug Wheatley and Chris Warner also provided variant covers for the first issue.
Predator: Life and Death formed the Predator component of Dark Horse's franchise-crossing Life and Death event in 2016/2017, and was released in conjunction with Prometheus: Life and Death, Aliens: Life and Death and Alien vs. Predator: Life and Death. The four series all share an interconnected story and all were written by Abnett.
In the Predator comics line, Predator: Life and Death was preceded by Predator: Fire and Stone.
Publisher's Summary
Edit
#1: Colonial Marines on the planet Tartarus battle extraterrestrial hunters over the possession of a mysterious horseshoe-shaped spaceship of unknown origin. The Weyland-Yutani rep wants the ship, and the marine captain wants to protect her crew. But neither objective is likely when a band of Predators attacks!
#2: Colonial Marines hunt the Predators, and the Predators lead the marines into an ambush! But on the jungle world of Tartarus, everyone has their eyes on the ultimate prize: an otherworldly spacecraft ripe for the taking!
#3: The Colonial Marines discover the corporate claim jumpers they're protecting have been hiding what they know about the massive, horseshoe-shaped alien spaceship. Meanwhile, the Predators go on the offensive!
#4: The battle between the Colonial Marines and the Predators opens on two fronts as the humans attempt to split the enemy's force and take possession of the mysterious horseshoe-shaped alien spaceship! Getting their hands on the alien technology will be a huge victory for the humans... or will it?
Reprint History
Edit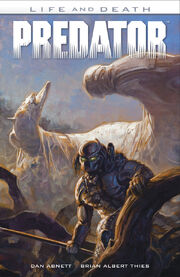 The series will be collected as a trade paperback released on October 12, 2016. The collected edition will reuse David Palumbo's cover artwork from issue 1.
Behind the Scenes
Edit
Predator: Life and Death was one of the comics selected to be a part of Dark Horse Comics' 30th anniversary variant cover program — issue 1 received a special variant cover by Chris Warner, based on Warner's cover for Dark Horse Presents #35[1] (which featured part two of the first ever three-part Aliens vs. Predator short story).
Chronology
Edit
Predator: Life and Death takes place approximately forty-three years after the events in the motion picture Aliens (and just over a year after the events in Fire and Stone).
Issue covers
Edit
Variant covers
Edit
References
Edit
↑ "Dark Horse Comics - Dark Horse Comics Debuts Yearlong 30th Anniversary Variant Program". Retrieved on 2016-01-29.
Ad blocker interference detected!
Wikia is a free-to-use site that makes money from advertising. We have a modified experience for viewers using ad blockers

Wikia is not accessible if you've made further modifications. Remove the custom ad blocker rule(s) and the page will load as expected.