Predator: Invaders from the Fourth Dimension
Talk

0
2,617pages on
this wiki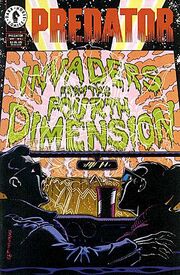 Predator: Invaders From the Fourth Dimension
was a one-shot comic book published by
Dark Horse Comics
in July 1994. It was written by
Jerry Prosser
, drawn by
Jim Somerville
, inked by Brian Garvey, colored by Ray Murtaugh, and edited by
Robert Boyd
. Somerville also provided cover art.
The story is an homage to 50's sci-fi/alien invasion movies and was released alongside Dark Horse's Aliens: Earth Angel one shot, also set in the 50s.
In the Predators comics line, Invaders from the Fourth Dimension was followed by the reprint issue Dark Horse Classics presents Predator: Jungle Tales (March 1995) and the short story Predator: 1718 (July 1996).
Plot (Warning: Spoilers)
Edit
Official description:
It's 1959, and Hollywood is spewing out dozens of grade-Z alien invasion movies. But what happens when a real invader from outer space shows up in the back lot of a movie studio? Predator lands in Hollywood when he's hunting for some new talent, and the only roles these actors are getting are dead-end parts!
With the aid of special glasses, 11-year-old Tommy Anderson is the only one who can see the Predator. But can this over-imaginative boy convince adults that there's really a murderous monster stalking him? It's mayhem at the drive-in when Predator comes a-huntin'!
Behind the Scenes
Edit
Invaders from the Fourth Dimension marked a brief end to the flurry of Predator publishing at Dark Horse Comics that began with the first miniseries in 1989 and continued uninterrupted until this point. It was followed by a two year break in new Predator stories.
The lull would come to an end with 1996's Predator: 1718 short story and a number of series and one shots would again quickly followed.