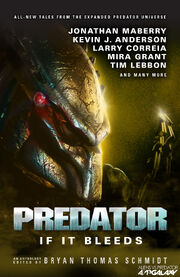 Predator: If It Bleeds is an upcoming 2017 anthology novel set to be published by Titan Books. The book will contain 16 short stories by different writers that all focus on the Yautja.[1] Authors who will contribute include Kevin J. Anderson, David Boop, Jennifer Brozek, Larry Correia, Mira Grant, Tim Lebbon, Jonathan Maberry, Andrew Mayne, Weston Ochse, S. D. Perry, Steve Perry, Holly Roberds, Jeremy Robinson, Bryan Thomas Schmidt, John Shirley, Peter J. Wacks, Wendy N. Wagner and Dayton Ward.[1] It is due to be released in October 2017.[1]
Publisher's Summary
Seventeen brand new, never before seen stories — exclusive to this collection — featuring the Predators throughout space and time. Based entirely on the original films, novels and comics, PREDATOR: IF IT BLEEDS reveals the Predators stalking prey in 12th Century Japan, 9th Century Viking Norway, World War I, Vietnam, the Civil War, Hurricane Katrina, and the modern day, as well as across the far reaches of future space.
Stories Included
Trivia
The book's title is taken from the line, "If it bleeds, we can kill it," spoken by Dutch in the film Predator. The similar Alien anthology novel published earlier the same year, Aliens: Bug Hunt, likewise takes its title from film dialogue, in that case from Aliens.
Of the 18 authors contributing to the anthology, Kevin J. Anderson, Tim Lebbon, S. D. Perry, Steve Perry and John Shirley have all previously written stories for the Predator franchise, be they novels, video games or comic books. Additionally, Weston Ochse, Larry Correia and Jonathan Maberry previously contributed short stories to the Aliens: Bug Hunt anthology novel.
See Also
References
↑ 1.0 1.1 1.2 "AVPGalaxy - AvPGalaxy Exclusive – Predator: If It Bleeds – New Predator Anthology Book!". Retrieved on 2017-03-12.