Predator: Hell and Hot Water
Talk

0
2,617pages on
this wiki
Predator: Hell and Hot Water
was a three-issue miniseries published by
Dark Horse Comics
from April–June 1997. It was written by
Mark Schultz
and drawn by comics legend
Gene Colan
. Schutlz was also the cover artist. Colors were by Gregory Wright and the series was edited by
Bob Cooper
.
Hell and Hot Water was first collected as a trade paperback edition in Feb. 1998 featuring a new cover by Schultz. The series was finally collected in Predator Omnibus: Volume 3 in June 2008.
The story marks the first undersea adventure for the Predator franchise.
In the Predator comics line, Predator: Hell and Hot Water was followed by Predator: Primal (July-Aug. 1997)
Plot (Warning Spoilers)
Edit
Official description of individual issues:
Two days ago, the crew of a Chilean fishing vessel saw something fall from the sky. They were into the Humboldt current, watching the approach of a fast-moving weather front, when they heard a roar like a huge turbine in the sky. The rain swept over them, and through the sheets coming down through the clouds they saw a vision that at times took on material definition and flickered with an electricity of its own. Captain
Rafe Cromartie
has a pretty good idea what's down in those cold waters—he's pretty sure he's fishing for Predators. But knowing what you're fishing for and knowing how to catch it are two totally different things. One crew member is dead, his skull
and spine ripped out, and
Matteson
is missing. That leaves the team no choice—they have to go back into the waters to search for their absent comrade. They're prepared to battle a Predator, so they believe they're prepared for the worst, but the horrible truth is that the Predator may be the least of their troubles.
As if a Predator weren't problem enough! Rafe Cromartie has already lost a good part of his crew to the undersea hunt for the Predator. Now it looks as though the rest of the crew—and Rafe himself—are about to fall victim to another undersea horror: a huge, tentacled worm creature! It looks as though Rafe and crew are caught between Hell and Hot Water!
Behind the Scenes
Edit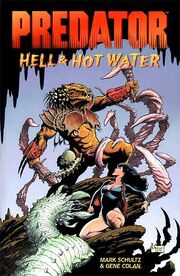 As the first successfully executed high seas Predator adventure,
Hell and Hot Water
was perhaps an inspiration for the later sea-themed novel
Predator: South China Sea
from Dark Horse Books.
Writer/artist Mark Schultz also worked on the series Aliens: Apocalypse - The Destroying Angels