Predator: Hell Come a Walkin'
Talk

0
2,624pages on
this wiki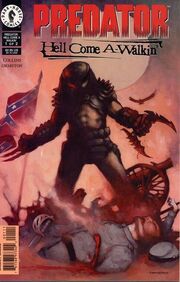 Predator: Hell Come a Walkin' was a two-issue comic book miniseries released by Dark Horse Comics from Feb.-March 1998. The story was written by Nancy A. Collins, with art and painted covers by Dean Ormston. The series was edited by David Land.
Hell Come a Walkin' was eventually collected in Predator Omnibus: Volume 4 September 2008.
In this story, Union and Confederate soldiers hunt a rogue Predator against the dramatic backdrop of the American Civil War.
In the Predator comics line, Predator: Hell Come a Walkin' was followed by Predator: Captive (May 1998).
Official description of individual issues:
It's the Civil War . . . A nation is divided against itself and the once green countryside runs red with blood. Even as the conflict destroys towns and families it serves as bait . . . Bait for a Predator. When two opposing bands of soldiers bear witness to the Predator's gruesome atrocities, they realize they have an enemy greater than each other. But can they lay aside their differences long enough to defeat their common foe?
It's 1863 and the Civil War rages through the Ozarks. But it's not just brother killing brother in this neck of the war . . . This battle has been joined by a Predator. A small band of Confederate and Union soldiers join together in order to destroy their common monstrous foe. You won't want to miss this, the conclusion of Predator: Hell Come a Walkin' as the armies of the North and the South join together in a battle that you won't find in any history book!
External Links
Edit