Predator: Dark River
Talk

0
2,618pages on
this wiki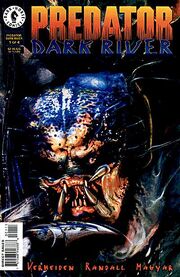 Predator: Dark River
was a four-part miniseries published by
Dark Horse Comics
from July-Oct. 1996. The series was written by
Mark Verheiden
and drawn by
Ron Randall
. It was inked by Rick Magyar and colored by David Nestelle, Steve Mattsson, and John Hanan III. Cover art was provided by
Miran Kim
, and the series was edited by
Bob Cooper
and
Philip Amara
.
The series was eventually collected in Predator Omnibus: Volume 1 in Aug. 2007.
Dark River
was the third part in a trilogy of
Predator
Detective Schaefer comics series and was a direct sequel to
Predator: Concrete Jungle
(1989) and
Predator: Cold War
(1991). It featured the same lead characters of
Detective Schaefer
(brother of
Predator
film hero
Alan "Dutch" Schaefer
), his partner
Detective Rasche
, and secretive Army Major General
Homer Phillips
(the only character from the
Predator
films to appear in the comics). Dark Horse now refers to the Detective Schaefer
Predator
comics as the "core Dark Horse
Predator
graphic novels".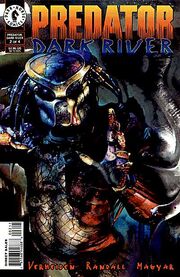 In the story Detective Schaefer returns to the site of the first Predator film to try and find answers as to what happened to his brother Dutch.
In the Predator comics line, Predator: Dark River was followed by Predator: Strange Roux (Nov. 1996).
Plot (Warning: Spoilers)
Edit
Official description of individual issues: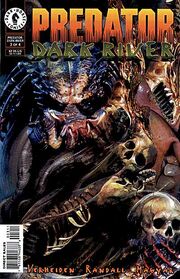 Schaefer joined NYPD to "serve and protect." It's a bug in his blood or a chip in his brain. But as bad as things get in the drug-infested concrete jungle there's something worse out there, something that really needs stopping. The last time Schaefer faced it down was three years ago, in Russia. Now he's got another chance to stop that evil. He's deading down to the jungles of South America, and he'll come back with the head of a Predator...or he won't come back at all.
Detective Schaefer has traded the concrete jungle of New York for the sweaty hell of its South American counterpart. He's on a mission to find his missing brother, but he's going to be hard pressed to do that. Someone is luring Shaefer into an inevitable confrontation with a Predator. One that he's faced before. One that he thought he killed. One that wants revenge.
Though Predators are natural-born killers, one theory suggests they have a code of honor. Leave it to NYPD Detective Schaefer to find a Predator that doesn't share that theory. Deep in the heart of South America, Schaefer is hunting for a piece of his past - his lost brother Dutch - while another piece of his past - a Predator he thought long dead - stalks him through the dense, sweltering jungle. And when they finally lock horns, the "dark river" will run red!
Detective Schaefer has been having bizarre nightmares of a nasty-looking, seven-foot-tall, alien headhunter. One big problem: Schaefer is wide awake. And though he's been hardened by the atrocities he's experienced as a NYC cop, it won't prepare him for his fateful, savage confrontation with the Predator he thought he'd destroyed years ago. Now his search for his brother Dutch may end with no answers, more questions, and a lot more bloodshed.
Behind the Scenes
Edit
Unlike the other two miniseries from the "Detective Schaefer trilogy" of stories, Dark River was for some reason never novelized.