Predator: Cold War (comic)
Talk

0
Predator: Cold War is a four-issue limited comic book series that was first published by Dark Horse Comics from September-December 1991. It was written by Mark Verheiden, illustrated by Ron Randall, inked by Steve Mitchell and edited by Randy Stradley, with cover art by Brian Stelfreeze. The comic was later adapted as a novel of the same name by Nathan Archer.
The story is a direct sequel to Predator (1989 series) and features the same lead characters of Detective Schaefer (brother of Predator hero Alan "Dutch" Schaefer), his partner Detective Rasche, and secretive Army Major General Homer Phillips. It also introduces a new female lead for the miniseris, Russian Army Lieutenant Ligacheva. Cold War was the second in a trilogy of stories featuring Detective Shaefer, which concluded with Predator: Dark River. These three comics are now referred to as the "core Dark Horse Predator graphic novels" by the publisher.[1]
In the Predator comics line, Predator: Cold War was preceded by Predator: Big Game and was followed by Predator: The Bloody Sands of Time.
Publisher's Summary
Edit
#1: The Predators are back, only this time they've touched down in a remote section of Soviet Siberia. "So let the Russians worry about 'em," is New York city police detective Schaefer's attitude. The only problem is someone seems to want Schaefer (the hero of Dark Horse's first Predator series) in on the action — whether he likes it or not!
#2: Something's happening in Siberia, and the U.S. military suspects what the Soviets are just beginning to find out — the Predators are back! Detective Schaefer and General Philips' elite squad parachute into the icy wasteland to investigate, only to receive a warm welcome from both the Russians and the Predators.
#3: In the sub-zero ruins of Siberian oil-pumping station, U.S. commandos take on their Soviet counterparts as the superpowers teeter on the brink of war! Only Russian Lt. Ligacheva and American detective Schaefer seen interested in going after the real enemy — the Predators.
#4: and Ligachev take the battle to the enemy when they attack the Predators' downed spacecraft. The only thing Schaefer can't understand is, if it's winter in Siberia, why is it so hot that he and Ligacheva are forced to strip down to their skivvies?
Reprint History
Edit
Predator: Cold War was first serialized and reprinted in the United Kingdom in 8 parts in Aliens magazine, Vol. 2 #1-8, from July 1992-February 1993.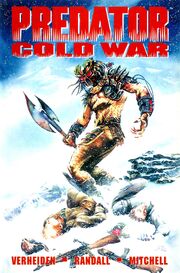 The comic was later collected in a trade paperback released in May 1993 with a new painted cover by Ray Lago.
It was collected again as part of Predator Omnibus: Volume 1 in August 2007.
The complete comic was released digitally through Dark Horse Digital on January 30, 2013, reusing Lago's cover art from the trade paperback release.
Issue covers
Edit
References
Edit
↑ "Dark Horse Comics - Predator Omnibus Volume 1". Retrieved on 2015-05-18.