Predator: Captive
Talk

1
2,624pages on
this wiki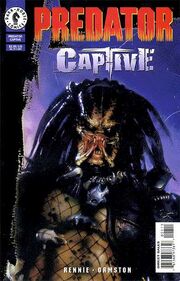 Predator: Captive
is a one-shot story published by
Dark Horse Comics
in May 1998. The story was written by
Gordon Rennie
and illustrrated by
Dean Ormston
, with a painted cover by
Dean Williams
. It was edited by
Philip Amara
.
Captive was eventually collected in Predator Omnibus: Volume 4 in September 2008.
In the Predator comics line, Predator: Captive was followed by Predator: Demon's Gold (Nov. 1998).
Official description:
Tyler Stern is a reclusive billionaire industrialist who has everything. Everything except his own living, breathing Predator. But with the help of some friends in high places, it's not long before Stern has that, too. Fascinated by the creature, he creates a biosphere to study the alien killing machine in its own environment. But has the billionaire's fascination turned to obsession? Stern may be studying the Predator, but it's becoming clear who the real captive is.
Behind the Scenes (Warning: Spoilers)
Edit
The name of the Military attack group sent in to raid Stern's compound at one point in the story is "Nimrod Squadron". Coincidentally, Nimrod Antal was the name the director of the 2010 film Predators.
The ellusive subject of trying to capture a living Predator for study and observation has been the subject of a number of Predator stories and comic books throughout the history of the franchise, including the film Predator 2. Captive is one of the only stories to feature such a capture actually successfully taking place. That success, of course, is revealed as being only temporary as the story unfolds.
Writer Gordon Rennie was also the author of Predator: Nemesis.