Predator: Blood on Two-Witch Mesa
Talk

0
2,618pages on
this wiki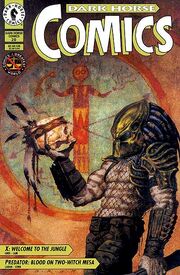 Predator: Blood on Two-Witch Mesa
was a two-part story published by
Dark Horse Comics
, in
Dark Horse Comics #20-21
from April-May 1994. It was written by
Terry LaBan
and illustrated by
Howard Cobb
. The story was edited by
Randy Stradley
and
Edward Martin III
and the first issue featured a painted cover by
Brom
. It was eventually collected in
Predator Omnibus: Volume 2
in February 2008.
The story features the return of Native-American US Army Corporal Enoch Nakai, the hero from Predator: Big Game, and a story of when his great-grandfather faced off against a Predator in the Old West.
In the Predator comics line, Blood on Two-Witch Mesa was published concurrently with Predator: Bad Blood (Dec. 1993-June 1994) and followed by Predator: Invaders from the Fourth Dimension (July 1994).
Plot (Warning: Spoilers)
Edit
Official description of individual issues:
On the lava flow the Spaniards called El Malpais, Enoch Nakai fought his own demon, in Predator: Big Game. But though the Beast is dead, Enoch's demons aren't, and he is destined to meet with them again in "Predator: Blood on Two-Witch Mesa," featuring a premiere script by Terry LaBan and beautifully detailed art by Howard Cobb.
Also, in the blood and dust-streaked conclusion to "Predator: Blood on Two-Witch Mountain," Enoch's grandfather faces his own devil under the hot desert sun. And don't expect the Predator to lose this time!
Behind the Scenes
Edit
This story makes Enoch Nakai one of the few Predator comics characters to appear as a lead in more than one Predator story/series, the other being Detective Schaefer from the original Predator miniseries.
It also makes Nakai the first Predator comics character to have his exploits continued by a writer other than the one who created him. (Schaefer was only ever handled by Mark Verheiden.)
Indeed these it serves as a rare exception for the Aliens, Predator and AVP comics lines in general, where only a few characters have made repeat appearances or had their stories continued.
Some other noteworthy recurring characters are Machiko Noguchi, Ellis and Top-Knot from the AVP line; and Hicks/Wilks, Newt/Billie, Ripley/Synthetic Ripley, the captain of Gateway station, Anthony Crespi and Dr. Ernst Kleist from the Aliens line.