Predator: 1718
Talk

0
2,624pages on
this wiki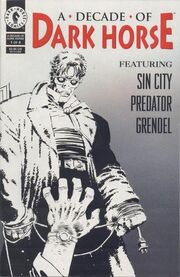 Predator: 1718
is a short story featured in the anniversary anthology comic
A Decade of Dark Horse
#1 published by
Dark Horse Comics
in July 1996. It was written by
Henry Gilroy
, illustrated by comics veteran
Igor Kordey
and edited by
Randy Stradley
.
The story was first collected with the rest of the anthology series in the trade paperback Decade: A Dark Horse Short Story Collection in April 1997, with a cover by Dave Gibbons featuring a Mount Rushmore of various Dark Horse characters, including the Predator. The story was finally, definitively collected in Predator Omnibus: Volume 2 in February 2008, with new title cover page art by Kordey.
In the Predator comics line, Predator: 1718 was followed by Predator: Dark River (July-October 1996).
Pirates and Predators
Edit
Dropping anchor at an island in Guinea in 1718, The Captain of a small band of pirates suddenly faced mutiny over a stolen case of gold which was destined for a church. The Captain wanted the gold returned, much to the anger of his crew, who turned against him. In the following battle, a watching Predator joined the fray and fought back-to-back with The Captain, attacking the rebellious crew with an extendable sword. In the climactic scene, with the crew dead and the Predator and The Captain about to battle mano-a-mano, The Captain is shot in the back by a surviving crew member who was hiding. Denied his trophy, the Predator angrily blasts the crew member away. With his dying breath, The Captain whispers "Take It..." to the Predator, throwing his beautifully engraved pistol. With The Captain dead, the Predator takes a moment to think about what has happened - and with some curious respect, leaves the dead Captain his extendable sword... "Take It". The final scene sees what looks like a shooting star moving across the night sky, far above a now silent island - and a pirate ship in the bay, never to leave anchor again.
Behind the Scenes
Edit
According to the Predator 2 trivia page on IMDb:
"During the finale of the film, when the elder Predator hands Danny Glover the gun dating from 1715, screenwriters Jim Thomas and John Thomas had conceived an idea for a possible Predator movie which would take place in a time where was no modern weapons available to combat them, much like the finale of the original Predator (1987)."
"The writing on gun the Predator gives Harrigan says 'Raphael Adolini 1715'. A later Dark Horse comic tells the story of this character, making him a Pirate who disappeared along with his crew in the Bermuda Triangle in 1718. This was also the subject of a potential sequel script written in the mid-90s."