Pluto
System
Suns
Moons

Charon

Class

Terrestrial

Diameter

2,306 km

  [Source]
Pluto, formal designation 134340 Pluto, is a dwarf planet in the Solar System. In 2379 it is situated outside of regulated space. The USM Auriga was in orbit around Pluto when it docked with the commercial freight smuggler vessel the Betty in 2379.[1]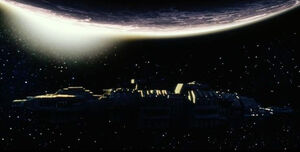 For many years, Pluto was classified as the ninth planet of the Solar System. However, it was reclassified in 2006 when it was discovered to be just one of several dwarf planets in the system. Some scientists continue to argue Pluto should be designated a full planet.
Appearances
Edit
References
Edit
↑ A. C. Crispin. (1997). Alien Resurrection novelization. Warner Books, Inc., 2.