Ad blocker interference detected!
Wikia is a free-to-use site that makes money from advertising. We have a modified experience for viewers using ad blockers

Wikia is not accessible if you've made further modifications. Remove the custom ad blocker rule(s) and the page will load as expected.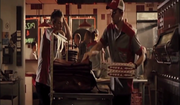 Pizza One was a take-out and delivery pizza restaurant with an establishment in Gunnison, Colorado until it was destroyed in 2004.[1]
In 2004, Pizza One had at least one establishment in Gunnison, Colorado with Drew as the manager. Ricky Howard worked at Pizza One's Gunnison establishment in 2004 until it was destroyed with the rest of the town when a nuke was dropped on Gunnison in an effort to contain the Xenomorphs which had infested the town.[1]
Behind the scenes
Edit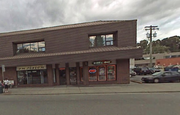 The location used for Pizza One in Aliens vs. Predator: Requiem is located at 2285 McAllister Ave (at Shaughnessy St), Port Poquitlam, British Colombia, Canada.[3] Today, it is an establishment for Omega Pizza and Wings,[4] who, as of August 2011,[5] appear to still have the same "PIZZA & WINGS" sign used in the film on their window.[3][5]
Appearances
Edit
References
Edit
↑ https://www.google.ca/maps/@49.262679,-122.780773,3a,75y,24.35h,88.26t/data=!3m5!1e1!3m3!1sC00EJfmFGjUPSgDBOGCmhQ!2e0!5s2007-09
↑ 5.0 5.1 https://www.google.ca/maps/@49.262679,-122.780774,3a,90y,33.26h,72.52t/data=!3m4!1e1!3m2!1sXpdbUd8eDXiM40_yDB_0hg!2e0
↑ https://www.google.ca/maps/@49.262584,-122.780552,3a,75y,338.32h,85.63t/data=!3m5!1e1!3m3!1sPJrUR77mHALyuLdEBwKE-w!2e0!5s2007-09
↑ https://www.google.ca/maps/@49.262632,-122.780664,3a,75y,348.8h,87.25t/data=!3m5!1e1!3m3!1sp6XRewqp2SaO4zBGtYpiAA!2e0!5s2007-09
↑ https://www.google.ca/maps/@49.262679,-122.780774,3a,52.9y,26.56h,80.28t/data=!3m5!1e1!3m3!1sXpdbUd8eDXiM40_yDB_0hg!2e0!5s2011-08
↑ https://www.google.ca/maps/@49.262723,-122.780879,3a,37.8y,66.12h,84.2t/data=!3m5!1e1!3m3!1svVaSERJwp32HeG5K-6-igg!2e0!5s2011-08
↑ https://www.google.ca/maps/@49.262633,-122.780667,3a,75y,354.17h,83.18t/data=!3m5!1e1!3m3!1s_mKrcH4smuK_yX4UbFy9pw!2e0!5s2011-08
↑ https://www.google.ca/maps/@49.262584,-122.780552,3a,76.7y,338.43h,80.47t/data=!3m5!1e1!3m3!1sHTs-KseLEnRXithL44RUpQ!2e0!5s2011-08
↑ https://foursquare.com/v/omega-pizza-and-wings/4d5dbf54338bb60c257e07bd/photos?openPhotoId=4d5dc364d47328fd31653348
↑ https://foursquare.com/v/omega-pizza-and-wings/4d5dbf54338bb60c257e07bd/photos?openPhotoId=52473a7c11d2bc244c478a34
↑ https://foursquare.com/v/omega-pizza-and-wings/4d5dbf54338bb60c257e07bd/photos?openPhotoId=4da3d318ba11a340df6e2cd9
↑ https://foursquare.com/v/omega-pizza-and-wings/4d5dbf54338bb60c257e07bd/photos?openPhotoId=4da3d32a249a2da18f8c3ae8