"Seems [Mother] has intercepted a transmission of unknown origin."

This article needs to be provided with more sources and/or appearances to conform to a higher standard of article quality.



Palatine
Biological information
Homeworld
Physical description
Height

10'

Skin color

Black-blue

Distinctions

Queen-sized Drone, thinner than other Xenomorphs, can destroy a Power Loader, have tines on their heads

Other information
Affiliation

  [Source]
"They're her chosen few. They're trying to protect her."
―Aliens: Female War
A Palatine is a Xenomorph that resembles a Queen-sized Praetorian or Drone. They are the Queen Mother's personal guard and are only native to Xenomorph Prime.
Information
Edit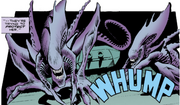 Palatines look like Drones but are much larger and slimmer. They also have spines on either side of their heads. They reside in large, egg-shaped pods that surround the Queen Mother's chamber and only number five Palatines at a time. Palatines also are faster than most Xenomorphs.
Despite their appearance of over-sized Drones, Palatines act a lot like the Warrior caste with their extremely aggressive nature. The Palatines are also strong enough to destroy a Caterpillar P-5000 Work Loader.
Evolution
Edit
Palatines are capable of molting into a Xenomorph Queen Mother when exposed to Royal Jelly, but it is unknown if they can evolve any further.
Praetorian - a similar albeit smaller Xenomorph that also acts as a guard for higher-ranking Xenomorphs.
Appearance
Edit