Mother Ship
Talk

2
1,710pages on
this wiki
The Mother Ships or (Jag'd'dja atoll in the Yautja language) are massive, mobile bases for Yautja hunters. They are totally independent craft where a number of smaller ships can dock. These ships rarely enter conflict with another force, and are usually inhabited by a single clan, led by the clan Elder.
Like other Yautja craft, they utilize cloaking devices which are sensor-invisible, making them virtually impossible to find. Pilots of other Yautja vessels, however, can use their vessel's standard beacons to locate a nearby Mothership. Here, warriors can battle for respect and acquire new weapons and devices. Most Mother Ships also have a trophy case in which its clan's trophies are put on display. According to the novel AVP: War, almost every mothership holds a captive Queen, which the Yautja most likely release in an area for a hunt.
They are fully equipped with scout ships and insertion pods, capable of lauching a Hunter onto a planet's surface and sending smaller scout ships onto hunts. They also come with powerful beam weapons, powerful enough to punch a hole from the orbit of a planet down to the deep crust. They also have two versions of self-destruct devices, one that detonates in a massive thermonuclear explosion, and another that implodes the ship, removing all trace of its existence.
It is known that the Predators have some form of offensive weaponry on their ships, as seen when a Mother Ship destroyed the USS Marlow. They also have a very powerful and accurate plasma beam which they used to cut through hundreds of meters of ice in seconds, all the way from orbit, to reach the Antarctic Pyramid.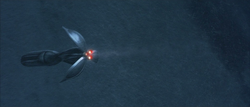 The Predator ship can also send pods to Earth containing Predators. This makes sense as the Predator ship in the first Predator movie, sent a similar kind of pod to Earth. The pods in AVP are like sleek black/silver capsules which have three "wings" on the end and some sort of thruster. They crash into snow in Antarctica and the Predators make their way to the pyramid. These pods only work once and have to be replaced after every hunt, different clans have different design for them. Also pods were used as a sort of tactical insertion mechanism during the predators first conflict with the Xenomorph species. 
Teleportation Hypothesis
Edit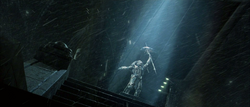 In the flashback sequence when one Predator kills an Alien, a Predator ship flies over him and shines a light over him. It is presumed that they're going to teleport him onto the ship; it's implied off screen at least. It could possibly mean the Predator ships are equipped with some form of teleportation equipment. It's also the same ship that's seen at the end of the film. That said, if they did have teleportation why did they send the three Predators to Earth in pods, so maybe they don't. Although a possible explanation for this is that the teleportation range is limited and that the Predators have to come in relatively close to be able to use it, or that it is only used during certain times dependent upon their culture and what may be considered "acceptable". It could also be possible that the teleportation only works one way and can't teleport their crewmen down onto the surface (therefore needing the pods), and can only teleport Predators back to the ship once they're already on the surface. A final solution is that it works more like a spotlight, for the mothership's crew to easily spot the hunters as well as to indicate to the hunters themselves that the mothership knows their location.
The most likely it is simply a spotlight used to inspect the young Predators kill. When the Predator makes his first kill, he presents his trophy to his clan to earn their approval. No different from a regular spotlight used as a viewing aid.
Holographics
Edit
The Mothership has holographic technology. Just like on the Predator's wrist equipment, the ship has some from of holographic equipment but this shows real-time images from within a location as well as 3D mapping. No one is absolutely sure how this is accomplished, although it may utilize a small hovering robot or machine that uses local airborne water (or similar liquids) molecules to light up into a holographic picture. A similar tactic is planned by mankind to begin to build holographic computer monitors.