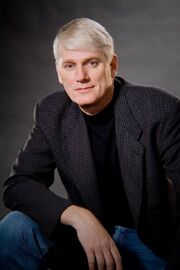 Mike Richardson (born June 29, 1950) is a publisher, writer and editor and the founder of Dark Horse Comics, the company that produces the Aliens, Predator and Aliens vs. Predator comic book lines. As well as establishing the company responsible for the bulk of the comic books related to the franchises, Richardson has also written and edited a number of individual comics in the associated lines, and has worked as a movie producer on numerous Dark Horse comic-to-film adaptations, including The Mask (1994), Timecop (1994), Hellboy (2004), Alien vs. Predator (2004) and Hellboy II: The Golden Army (2008).
In addition to serving as publisher of every single issue released for the three comics lines, he has worked directly on six comic releases for the lines as editor or writer.
Biography
Edit
Richardson started in the comic book field as the owner of a chain of popular comics stores in the Portland area. His company was initially founded in part with the intent purpose to acquire the rights to create quality off-shoot material for various film properties. Dark Horse has since gone on to produce successful officially licensed spin-off materials for numerous film and TV properties including Aliens, Conan, Indiana Jones, Predator, RoboCop, Serenity, Star Wars, The Terminator, Tarzan and most recently Buffy the Vampire Slayer, among many others.
The company was also launched with the purpose of producing quality original content, which could then be parlayed into film and television properties, which it has also been successful in.
Dark Horse is now considered the number 3 comic book publishing company in the United States, following behind perennial powerhouses Marvel and DC.