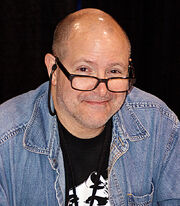 Michael Joseph "Mike" Mignola is an American comic book artist and writer who has worked on several comic books in Dark Horse Comics' Aliens, Predator and Aliens vs. Predator lines.
An award-winning veteran comic book creator who has worked extensively with Marvel and DC Comics in the past, Mignola is now most prominently known for his creator-owned Dark Horse Comics creation Hellboy, which has gone on to become a series of successful films starring Ron Perlman.
Mignola is known for his somewhat abstract and gothic art style, epitomized by his intentionally bulky figure work and dark shadows.
Interior artist
Edit
Cover artist
Edit
Aliens vs. PredatorEdit
Ad blocker interference detected!
Wikia is a free-to-use site that makes money from advertising. We have a modified experience for viewers using ad blockers

Wikia is not accessible if you've made further modifications. Remove the custom ad blocker rule(s) and the page will load as expected.