Michael Biehn
Talk

1
2,499pages on
this wiki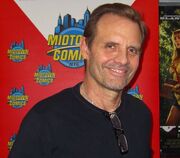 Michael Connell Biehn (born July 31, 1956) is an American actor and director who played Corporal Dwayne Hicks in the 1986 film Aliens. He later lent his voice and likeness to the character in the 2013 video game Aliens: Colonial Marines and its expansion pack Stasis Interrupted. Other notable films Biehn has appeared in include The Terminator (1984), The Abyss (1989), Tombstone (1993), The Rock (1996) and Planet Terror (2007).
Biehn is known for his work in the films of James Cameron; he has appeared in four of the director's movies. On the set of Planet Terror, Biehn was encouraged by director Robert Rodriguez to make his own film, and Biehn's directorial debut, The Blood Bond, was realised in 2010.
Biehn replaced actor James Remar in the role of Hicks.
Filmography
Edit
Year
Title
Functioned as
Notes
Director
Actor
1978
Grease
Uncredited
Coach
1980
Hog Wild
1981
The Fan
1983
The Lords of Discipline
With Bill Paxton
1984
The Terminator
With Lance Henriksen, Bill Paxton and Arnold Schwarzenegger, directed by James Cameron
1985
Deadly Intentions
1986
Aliens
1987
Rampage
1988
The Seventh Sign
In a Shallow Grave
1989
The Abyss
Directed by James Cameron
1990
Navy SEALs
With Bill Paxton
1991
Timebomb
Terminator 2: Judgement Day[2]
With Jenette Goldstein and Arnold Schwarzenegger, directed by James Cameron
K2
1993
Deadfall
Tombstone
With Bill Paxton
1995
In the Kingdom of the Blind
Jade
Breach of Trust
1996
Mojave Moon
The Rock
1997
Dead Men Can't Dance
The Ride
1987
Rampage
1998
Susan's Plan
American Dragons
2000
Chain of Command
Cherry Falls
The Art of War
2001
Megiddo: The Omega Code 2
2002
Clockstoppers
Borderline
2005
Havoc
With Raymond Cruz
Dragon Squad
2007
The Insatiable
You Are Here
Planet Terror
Directed by Robert Rodriguez
They Wait
2008
Stiletto
2009
Saving Grace
Streets of Blood
2010
Psych 9
Take Me Home Tonight
Bereavement
The Blood Bond
2011
The Divide
Puncture
The Victim
Yellow Rock
2012
Sushi Girl
With Danny Trejo
2013
Treachery
2014
The Dark Forest
Hidden in the Woods
Tapped Out
Biehn replaced James Remar in the role of Hicks when the latter was caught in possession of illegal substances and was fired from the production of Aliens.[3] Cameron knew Biehn from filming The Terminator two years previously, and he was subsequently cast as Hicks.

As a result of his late casting, Biehn did not get to customise his own combat armor as the other Marine actors had done; the motifs on his battledress had already been created by Remar.

Biehn recalled asking Robert Rodriguez during the production of Planet Terror why the director had cast him. Rodriguez responded,"I wanted to cast you because there's a certain moment in that movie where all hell is breaking loose, and I wanted to see you coming through these hospital doors, to see you bang through these double doors, and I want the audience to stand up and cheer." Biehn was dubious, but later recalled, "Anyway, we're at the big screen downtown, a thousand people, and the movie starts, blah blah blah happens, Josh Brolin's doing his thing. All of a sudden, I come crashing through the front door with a shotgun in my hand... and fucking everybody goes crazy. Everybody stands up and cheers. Here comes the fucking cavalry, which I guess I represented. Which I guess he knew I represented. That's Robert. He knew that moment was going to happen if he cast me in that role, as opposed to somebody else, I think, because of all the stuff that I had done back in the 80s I guess was kind of heroic."[4]
External links
Edit
References
Edit