Medi-Kit
Talk

0
1,711pages on
this wiki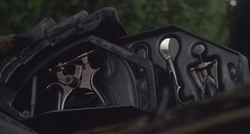 The Medi-Kit or Medicomp is used by the Yautja to treat wounds when on a hunt. The Medi-Kit contains various serums and surgical tools that can be used to treat a wide range of injuries quickly and effectively.
In Predator, the Hunter uses it to heal a bullet wound in its leg, and the visible contents are powder, a shrapnel extractor, two wound clamps, a stimulant shot, and a tube of antiseptic. In Predator 2, another Predator uses it to heal a wound where his hand was cut off, and to heal bullet wounds on his body, where it has surgical blades, a shrapnel extractor, wound clamps, a spatula, a burner for melting medicine, a needle full of medicine, two reloads for the needle, a container full of a blue solvent, and an emergency breathing mask. When the Predator uses the burner, he crushed pieces of plaster and the mirror, and then he adds the blue solvent, formed a gel, and cauterized the wound.
While the medicomp is an important instrument in healing the Predator, it appears that the tools and methods used to heal are quite painful; the Predator roars in pain when using the medicomp to heal himself, as shown in many films and video games.
Video games
Edit
In Predator: Concrete Jungle, it's a container, when injected into the flesh, it heals any wound on the body, in the Aliens vs. Predator Video Game Series, it appears as two knives that he injects and heals the body.
According to Aliens vs. Predator: Requiem model supervisor Nick Seldon, the use of staplers to close wounds as opposed to needles was done as a nod to the fact that the Predator's hide is too thick for surgical needles.