Martin Perez
Talk

0
1,710pages on
this wiki
"Ellen Ripley died trying to wipe this species out. For all intents and purposes, she succeeded!"
―Gen. Perez (from Alien Resurrection)
Martin Perez
Biographical information
Rank

General

Physical description
Species
Gender

Male

Hair color

Dark

Eye color

Brown

Chronological and political information
Affiliation
Notable Facts

Was in command of Science team responsible for cloning Ellen Ripley.

Status

Deceased as of 2379

Portrayed by

  [Source]
General Martin Perez was the commanding officer aboard the United Systems Military vessel USM Auriga. He also oversaw the scientific team led by Dr. Mason Wren that sought to resurrect the Xenomorph species by cloning the long-deceased Ellen Ripley, although in reality he had little involvement with the project beyond a basic managerial role.
Perez was killed during the early stages of the Xenomorph outbreak.
Biography
Edit
Ripley Rebirth
Edit
After Ripley 8 attacked a few of his staff, she was subdued. Perez feared that Ripley 8 could have memories of Ellen Ripley and he also was afraid that she could kill all the Xenomorphs just like Ellen Ripley did.
Dealings with Elgyn
Edit
Perez apparently did some transactions with Elgyn in the past. Elgyn gets down to business with Perez over the latest shipment while his crew make themselves comfortable on the Auriga.
Disaster & Death
Edit
After throwing a remotely activated grenade into an escape pod carrying a stowaway alien, he is bitten in the back of the head by yet another of the creatures, exposing his brains, which he proceeds to examine before dying.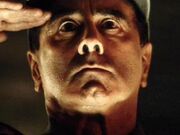 Personality & Traits
Edit
Throughout the film, Perez was shown to be petty and unwilling, often rushing procedures and deals just for the purpose of profit and achieving his goals; this was displayed when he came in to see the Queen, nervously asking on its production. Something similar was also shown when he threatened to subdue Ripley 8 after a violent incident with another soldier.
However, it should also be noted that despite this Perez still had some type of high level of respect to military customs, probably because of him being an officer and an experienced veteran. During the film Perez is shown to be dressed always in formal military clothes, often behaving with a high level of military courtesy. This is obvious until the very end, when he is killed by a Xenomorph while giving a respectful farewell military salute to those of his men who fell victims to one of the creatures moments before.
Appearances
Edit
References
Edit