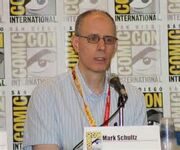 Mark Schultz (born June 7, 1955) is an American comic book writer and artist who has worked on several comic books in Dark Horse Comics' Aliens, Predator and Aliens vs. Predator lines.
Critically acclaimed for his creation in the 1980s of the indy comic book Cadillacs and Dinosaurs, Schultz has become one of the most active creators in the A/P/AVP comics universe. An accomplished artist, as well, Schultz has often provided cover art for the series he has worked on.
Schultz has worked on the followed Aliens, Predator, Aliens vs. Predator and cross-over comics:
Aliens vs. PredatorEdit
Cover artist
Edit
Ad blocker interference detected!
Wikia is a free-to-use site that makes money from advertising. We have a modified experience for viewers using ad blockers

Wikia is not accessible if you've made further modifications. Remove the custom ad blocker rule(s) and the page will load as expected.