"AVAILABLE DATA INSUFFICIENT"

This article is a stub or needs expansion. Help Xenopedia by expanding it.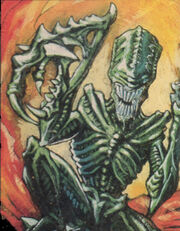 The Mantis Alien is a part of the Aliens toy line produced by Kenner Products.
The Mantis Alien possesses insect-like characteristics. Its skin coloration is of a more greenish hue compared to its more darker colored brethren. Its arms are much longer than the average Xenomorph's and possess spiked undersides. The tips of these arms have three pincer-like digits with large talons. The Mantis Alien is very agile and is able make jumps of great distances to move from place to place.
Ad blocker interference detected!
Wikia is a free-to-use site that makes money from advertising. We have a modified experience for viewers using ad blockers

Wikia is not accessible if you've made further modifications. Remove the custom ad blocker rule(s) and the page will load as expected.