Home
Talk

96
1,993pages on
this wiki
Welcome to Xenopedia,
The Alien vs. Predator Wiki!
---
BUILDING BETTER WORLDS SINCE
5. 26. 06

Welcome Marine!
Xenopedia is a comprehensive collaborative database
documenting all information on the Alien, Predator and Alien vs. Predator universe.
We are currently editing over 1,993 articles since May 26, 2006, and you can help!
Ready to contribute? Read this first!
Attention: This wiki contains spoilers

Universe
Behind the scenes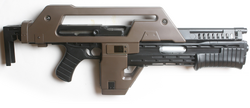 The M41A Pulse Rifle is an American-made assault carbine chambered for 10×24mm Caseless ammunition. It was employed by the United States Colonial Marine Corps and the United States Army as their primary infantry weapon during the late 22nd century. Through its use with the USCM, it saw regular use in various engagements with the Xenomorph and Yautja species. (Read more...)
What is your favorite stage in the Xenomorph life cycle?
Create blog post
Recent Blogs
Right, as promised, here's the first little teaser from my ongoing novelisation of . Here we're introduced to Major Thomas Van Zandt before the mission begins (and, predictably, goes very wrong). Thi…

Read more >

This is basically an idea for another real-time strategy game for aliens vs predator. (You could call it a sequel for aliens vs predator: extinction if you wanted, but hey! This is a FAN made idea, s…

Read more >

I haven't done any writing for years, but I've always wanted to do an AVP story and to ease myself back into it I figured I'd try and write a novelisation of the video game from 2010. The idea start…

Read more >
See more >
We are looking for any more information regarding Aliens: War Games.
Editors are needed in:
Any other useful contributions are welcomed.
The Motion Tracker (News)
WHAT'S THE STORY MOTHER ?
Mainly from AliensCollection.com
December 11, 2013
New Alien: Isolation images!
Artwork for the upcoming game Alien: Isolation has been discovered by NeoGAF! The first image looks like the box art for the game. Presumably, the person in it is Amanda Ripley in what appears to be the space suit from Alien. Also note an Alien reflected on the visor.
The second image appears to be the space station where the game is supposed to be set.
Alien ReAction figure BLACK packaging (?) and video review
Black packaging? More here!
December 10, 2013
News Resurrection
November 29, 2013
AVP Miniatures Kickstarter Successful
The AVP Miniatures Kickstarter was successful raising £379,141 of their £35,000 goal and unlocking all Stretch Goals!
November 28, 2013
AVP Miniatures Kickstarter
Only a few minutes left here!
Novmeber 23, 2013
Vintage Alien Toy Advertising
News Round Up
November 21, 2013
November 18, 2013
AVP Miniatures game update
A new video has been added along with a Q&A with Prodos video. The extra £15 of add-ons (pledges £210+) stretch goal has been unlocked and about £3000 till the Crusher stretch goal is unlocked here (10 more days to go)!
November 17, 2013
Aliens: Armageddon cabinet
The cabinet for Aliens: Armageddon unveiled here!
AVP Miniatures stretch goal
About £1,000 more for the extra £15 of add-ons (pledges £210+) stretch goal here (11 more days to go)!
November 16, 2013
Crusher miniature stretch goal revealed
A miniature Alien Crusher has been revealed as the £190000 stretch goal at the AVP The Miniatures Game Kickstarter page here (12 days to go)!
NECA Hicks vs. Warrior review