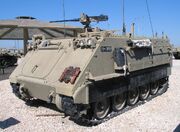 The M113 was a fully tracked armored personnel carrier that was developed by Food Machinery Corp. First fielded by the United States Army's mechanized infantry units in Vietnam in April 1962 during the Vietnam War, it was still in use by the United States and over 50 other countries worldwide in the early 21st century.
An M113 with a mounted Browning M2 machine gun was used by a team of U.S. soldiers who encountered a Xenomorph and Yautja in 2007. While one soldier attempted to use the mounted Browning M2 on the Yautja, the APC was ultimately destroyed when the creature threw a Plasma Grenade into the M113, creating a large explosion.
Overview
The basic M113 could be fitted with a number of weapon systems, including a number of anti-tank weapons, high explosive cannons ranging from 20 mm to 105 mm and the 40 mm Mk 19 automatic grenade launcher, but the most common weapon fit was a single .50 caliber Browning M2 machine gun.
The M113 was built of 5083 aircraft-quality aluminum alloy, which gave it some of the same strength as steel at a slightly reduced weight, as the greater thickness allowed structural stiffness. Its weight allowed the use of a relatively small engine to power the vehicle, a Detroit 6V53 V6 two-stroke diesel engine of 318 cubic inches (5,210 cc) with an Allison TX-100-1 3-speed automatic transmission. This allowed the vehicle to carry a large payload cross-country and to be transported by fixed and rotary-wing aircraft. Original production M113s could swim without deploying flotation curtains, using only a front-mounted trim vane; they were propelled in the water by their tracks.
Trivia
The M113 in Alien vs. Predator: Sand Trap is only ever referred to as "the taxi" in the comic. However, the vehicle is drawn clearly enough to identify it as the M113.
Appearances
See Also
References