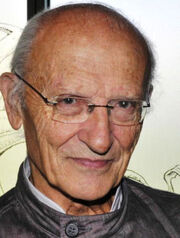 Jean Henri Gaston Giraud (May 8, 1938 – March 10, 2012), better known under the pseudonym Mœbius, was a French artist, cartoonist and writer who worked on the 1979 film Alien. He also worked on the comic Aliens: Havoc for Dark Horse Comics.
For Alien, Mœbius designed costumes and insignia for the crew of the USCSS Nostromo, most notably their space suits.
Ad blocker interference detected!
Wikia is a free-to-use site that makes money from advertising. We have a modified experience for viewers using ad blockers

Wikia is not accessible if you've made further modifications. Remove the custom ad blocker rule(s) and the page will load as expected.