The Lorenz SysTech Spire[1] was one of the three major towers on Sevastopol Station. It was where many of the station's more high-tech laboratories were located, as well as its extensive communications systems.
Overview
The SysTech Spire was the tallest of the three towers on Sevastopol. It's main areas included the station's communications center and its associated antenna array, as well as extensive computer server hubs and APOLLO's core and mainframes. The station's towing platform was also located at the tower's base. Gemini Exoplanet Solutions also operated several laboratories for its Project KG-348 research program in the SysTech Spire.
Trivia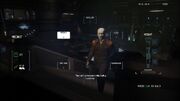 The manner in which the game randomly generates enemies in certain areas when returning to them later can cause a hostile Working Joe to appear in the SysTech lobby. However, this can happen even before the Joes begin hunting down the survivors on the station in mission 12; prior to this event, hostile Joes should not be found in public spaces and should be limited to restricted areas, making any appearances in the lobby before the rampage begins incongruous.
Appearances
Gallery
References
↑ Andy McVittie. The Art of Alien: Isolation, p. 99 (2014), Titan Books.