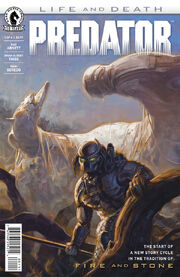 Life and Death is an ongoing comic book crossover event created by Dark Horse Comics in 2016. It will consist of four separate 4-issue limited comic book series — one each for the Aliens, Predator, Aliens vs. Predator and Prometheus lines[1] — plus a one-shot finale,[2] although so far only the individual limited series have been officially announced. Each of the comics is to be written by Dan Abnett.[3]
The crossover was launched on March 02, 2016, with the release of Predator: Life and Death #1, and continued with monthly releases thereafter. Each of the comics in the event is also being released simultaneously in the digital format through Dark Horse Digital.
Life and Death was preceded by the similar Fire and Stone crossover event in 2014/2015, which followed a similar pattern of four connected 4-issue series, one from each comic line in the AVP universe, followed by a one-shot conclusion. The story of Life and Death in fact forms a sequel to Fire and Stone.
Life and Death ComicsEdit
A one-shot finale has also been confirmed but has yet to be officially announced.
References
Edit
↑ "Newsarama - Abnett Trades Guardians of the Galaxy for Marines in Predator: Life & Death". Retrieved on 2016-03-03.
↑ Dan Abnett (writer), Brian Albert Thies (illustrator). Predator: Life and Death #1 (2016), Dark Horse Comics.
↑ "Big Comic Page - BCP Interview: Dan Abnett talks Predator: Life and Death!". Retrieved on 2016-02-10.
Ad blocker interference detected!
Wikia is a free-to-use site that makes money from advertising. We have a modified experience for viewers using ad blockers

Wikia is not accessible if you've made further modifications. Remove the custom ad blocker rule(s) and the page will load as expected.