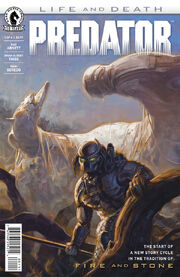 Life and Death is an ongoing comic book crossover event created by Dark Horse Comics in 2016. It will consist of four separate 4-issue limited comic book series — one each for the Aliens, Predator, Aliens vs. Predator and Prometheus lines[1] — plus a one-shot finale.[2] Each of the comics is to be written by Dan Abnett[3] and collectively form one continuous story line.
The crossover was launched on March 02, 2016, with the release of Predator: Life and Death #1, and continued with monthly releases through to March 29, 2017, with the release Alien vs. Predator: Life and Death #4. A one-shot finale is subsequently due to be released on April 26, 2017, wrapping up the event and the story.[2] Each of the comics in the event is also being released simultaneously in the digital format through Dark Horse Digital.
Life and Death serves as a sequel to the franchise's previous comics crossover event, Fire and Stone, run in 2014/2015 and which followed a similar pattern of four connected 4-issue series, one from each comic line in the AVP universe, followed by a one-shot conclusion.
Life and Death ComicsEdit
An as-yet untitled one-shot Prometheus finale has also been confirmed.[2]
References
Edit
↑ "Newsarama - Abnett Trades Guardians of the Galaxy for Marines in Predator: Life & Death". Retrieved on 2016-03-03.
↑ 2.0 2.1 2.2 "Bleeding Cool - Dark Horse Solicits For April 2017 – It's Cowboy Shaolin Time!". Retrieved on 2017-01-25.
↑ "Big Comic Page - BCP Interview: Dan Abnett talks Predator: Life and Death!". Retrieved on 2016-02-10.
Ad blocker interference detected!
Wikia is a free-to-use site that makes money from advertising. We have a modified experience for viewers using ad blockers

Wikia is not accessible if you've made further modifications. Remove the custom ad blocker rule(s) and the page will load as expected.