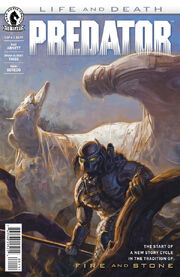 Life and Death is a comic book crossover event created by Dark Horse Comics in 2016. It consists of four separate 4-issue limited comic book series — one each for the Aliens, Predator, Aliens vs. Predator and Prometheus lines — plus a one-shot finale, titled Prometheus: Life and Death - Final Conflict. Each of the comics was written by Dan Abnett and collectively form one continuous storyline. The plot of Life and Death continues on LV-223, weeks after the events of Prometheus: Fire and Stone - Omega, as the five survivors of the Kadmos are once again caught in a life or death struggle between groups of warring Xenomorphs, Yautja and Engineers.
The crossover was launched on March 02, 2016, with the release of Predator: Life and Death #1, and continued with monthly releases through to March 29, 2017, with the release Alien vs. Predator: Life and Death #4. Prometheus: Life and Death - Final Conflict was released on April 26, 2017, as part of Alien Day, wrapping up the event and the story. Each of the comics in the event was also released simultaneously in the digital format through Dark Horse Digital.
Life and Death serves as a sequel to the franchise's previous comics crossover event, Fire and Stone, run in 2014/2015 and which followed a similar pattern of four connected 4-issue series, one from each comic line in the AVP universe, followed by a one-shot conclusion.
Life and Death Comics
References