Legendary Encounters: An Alien Deck Building Game
Talk

0
Share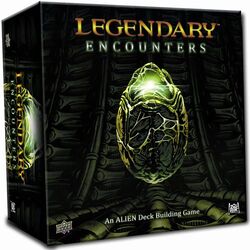 Legendary Encounters: An Alien Deck Building Game is a card game published by Upper Deck Entertainment. While it is based on Legendary: A Marvel Deck Building Game, the two games are compatible, but cannot be fully integrated. To play the game, players take turns recruiting cards for their deck from a central selection in order to improve their deck and defeat enemy cards that are added to the central game board. The game was released in summer 2014 release.[1]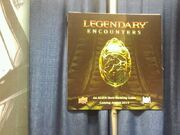 Upper Deck had a booth at BGG.CON, which was held in November 2013. Despite fans hoping that there would be more information on the game at the booth,[2] it apparently wasn't "run by anyone who knows much of anything about the upcoming game." However, a poster for the game with "AUGUST 2014" on it was hanging on a wall at the booth. Also, according to AvPGalaxy user Mr. Domino "one of the guys there thought that the plan was to do an early release at GenCon, with the retail rollout a couple of weeks later, which fits with the August release date."[3]
References
Edit
↑ "The Upper Deck Company | Entertainment". Retrieved on 2013-12-30.