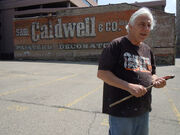 Justin Considine Green (born 1945) is an American cartoonist and comic book writer who co-wrote the comic Aliens: Kidnapped for Dark Horse Comics.
Biography
Born in 1945, Green is a cartoonist who pioneered autobiographical comics. He is best known for his 1972 comic book Binky Brown Meets the Holy Virgin Mary.
Green was a key figure in the 1970s generation of underground comics artists who appeared in Art Spiegelman's and Bill Griffith's anthologies Arcade and Young Lust. His artistic output slowed in the 1980s as he pursued a career as a professional sign painter (which he later described in his comic strip The Sign Game). Green claims that he is a first cousin to Hollywood film director William Friedkin. In the 1990s he returned to comics and has since produced mostly one- or two-page pieces for a variety of magazines, alternating slice-of-life stories with surveys of history and popular culture.
He lives in Cincinnati, and is married to the cartoonist Carol Tyler.
Credits
External Links