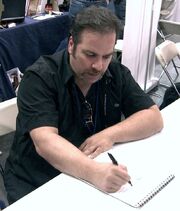 James "Jimmy" Palmiotti is an American comic book inker who worked on the comics Aliens: Stronghold and Aliens vs. Predator: Duel for Dark Horse Comics.
Palmiotti would eventually go on to become one of the most prominent inkers in the comic field due to his much acclaimed work artist Joe Quesada, mostly for Marvel Comics. Quesada would eventually become Editor-in-Chief at Marvel. After numerous jobs with Marvel, Palmiotti then moved on as a writer and inker on numerous titles for DC Comics in the 2000s.
Biography
Palmiotti is a graduate of the High School of Art and Design in New York City.
Palmiotti started at Marvel Comics in 1991, inking titles such as the Punisher, Ghost Rider, The Nam and the Marvel 2099 line, Palmiotti has accumulated extensive inking and writing credits and has often inked the work of his friend and collaborator Joe Quesada, notably on Ash (which they co-created, along with Painkiller Jane) and Daredevil (esp. the "Guardian Devil" arc penned by film director Kevin Smith). He also worked for Dark Horse Comics, as the inker during the Doug Mahnke run on X. He then again provided inks for Mahnke on Aliens:Stronghold. He inked Paul Gulacy on Shang-Chi: Master of Kung Fu, Punisher and Catwoman. He inked Steve Dillon on Punisher, as well as Brad Walker's pencil's on the DC Comics miniseries Secret Six - Six Degrees of Separation.
In 1994, he and Quesada formed a publishing company, Event Comics, and co-created Ash, a firefighter with superpowers, Painkiller Jane, a female cop with healing powers, Kid Death and Fluffy, about a boy and his pet robot dog and 22 Brides, about a group of girls that run the New York underworld. In 1998, Event Comics was contracted to do several books for Marvel Comics, dubbed Marvel Knights.
Eventually, perhaps due to his closeness to Quesada, Palmiotti was able to become a regular writer for DC and other comics companies, although his works often receive mixed reviews. Palmiotti is known for Deadpool, Daughters of the Dragon, the punisher, Heroes for Hire and Shanna the She-Devil for Marvel Comics, Hawkman, Superboy and The Monolith for DC Comics, as well as 21 Down, The Resistance and The Twilight Experiment for their Wildstorm imprint (often in tandem with fellow writer Justin Gray). Palmiotti also co-scripted, with Garth Ennis, a Ghost Rider video game that ties in with the movie. He has also penned Supergirl #12, the two Uncle Sam and the Freedom Fighters miniseries and an arc for Superman Confidential. Palmiotti and Gray were also part of the writing team for DC's Countdown. Currently, along with Gray, Palmiotti is writing the monthly Jonah Hex and Freedom Fighters for DC Comics, as well as the miniseries Time Bomb for Radical Publishing.
Palmiotti has also worked on Beautiful Killer, Gatecrasher, Tempest, Civil Warrior and has currently being shopped Death Troupe and Triggergirl 6. Palmiotti recently co-wrote with Justin Gray The Hills Have Eyes: The Beginning for Fox Atomic Comics.
He worked on the Painkiller Jane series for the Sci-Fi Channel starring Kristanna Loken. This was a one hour, 22 episode show. There was also a two hour Painkiller Jane movie done for Sci-Fi as well. In the past he has written and storyboarded films for Hooptown for Nike. They featured LeBron James and Vince Carter.
He is now also known as an editor for many projects and books with companies ranging from Marvel comics, Fox Atomic, Blackbull Comics and Kickstart Comics. He is also a partner in two comicbook companies. Blackbull comics, Event comics and a partner of Paperfilms inc.
Credits
External Links
Jimmy Palmiotti's personal blog: http://jimmypalmiotti.blogspot.com/