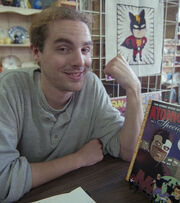 Jay Stephens (born March 22, 1971) is a Canadian comic book artist, writer and animation/cartoon creator who worked on the comics Aliens: Havoc and Aliens: Wraith for Dark Horse Comics.
Biography
Edit
Born in Toronto in 1971, Stephens is most known for his work in the animation field, in which he has produced the currently successful series Secret Saturdays for Cartoon Network, and the Emmy-Award-winning Tutenstein, currently in its second season on Discovery Kids/NBC.
Stephens' previous animation projects have included Jetcat, which was seen on KA-BLAM on Nickelodeon, which was nominated for a 1999 Annie Award for Outstanding Achievement in Production Design. He has also freelanced for Walt Disney Television Animation and Warner Bros.
In the comics field, Stephens is the creator of comedic series Atomic City Tales, The Land of Nod, The Bug Patrol, Icky Animal, Kook & Yuck, Nosferatu, Oddette, Space Ape B, Jetcat Clubhouse and Oddville. Stephens' comedic work has garnered him an Eisner Award nomination.
In 2004, Stephens designed and co-illustrated the kids cookbook Chickadee EAT IT UP!, featuring the cast from his Chick & Dee comics. In 2007, he released three drawing instruction books called MONSTERS!, HEROES!, and ROBOTS! published by Lark Books, which earned him a nomination for a National Cartoonists Society Reuben Award.
Stephens still lives and works in Toronto.
Interior artist
Edit
External Links
Edit
Jay Stephen's official website: http://www.jaystephens.com/
Jey Stephen's homepage on the website of comics talent agency Hollywood Comics (which specializes in marketing comics properties for TV/Film): http://www.hollywoodcomics.com/stephens.html
An interview where Stephens' discusses being a 'Canadian Cartoonist' with the Torontoist
Ad blocker interference detected!
Wikia is a free-to-use site that makes money from advertising. We have a modified experience for viewers using ad blockers

Wikia is not accessible if you've made further modifications. Remove the custom ad blocker rule(s) and the page will load as expected.