Jackson
Talk

0
1,711pages on
this wiki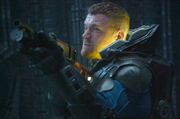 Jackson is a character from Prometheus. He is played by actor Branwell Donaghey.
Jackson is one of the mercenaries working for the Weyland Corporation as security specialists for the Prometheus mission. He is very loyal to Peter Weyland.
During the first trip to the temple he tries to bring a flame unit to protect the scientist team but is ordered to not do so by Elizabeth Shaw under the rationale of it being a research mission only, to which he hardly complies.
Later Jackson,
Vladimir
and the other mercenaries try to kill the mutated
Fifield
during his rampage at their ship's hangar bay by shooting him multiple times with some type of advanced pistols, with little effect. Jackson finally manages to mortally wound him with a more potent modified shotgun. During the awakening of the last
Engineer
Jackson takes care of the party attempting to communicate with the extraterrestrial, this time carrying the modified shotgun. When the being attacks and kills the crew Jackson attempts to kill the Engineer with his weapon but it is not enough to stop it. Jackson is beaten to death by the last Engineer while trying to reload.