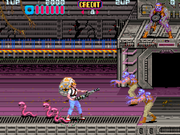 This
infectoid zombie
is an enemy found in
the 1990 Aliens video game
.
Appearance
Edit
They have a "classic" zombie appearance but with a hump on their back and a blue skin.
Aside from biting/eating any humans they see, these zombies are more smarter, capable of using human weapons. If the player is close enough, chestbursters will spawn from them; though this will not kill them.
"AVAILABLE DATA INSUFFICIENT"

This article is a stub or needs expansion. Help Xenopedia by expanding it.

Ad blocker interference detected!
Wikia is a free-to-use site that makes money from advertising. We have a modified experience for viewers using ad blockers

Wikia is not accessible if you've made further modifications. Remove the custom ad blocker rule(s) and the page will load as expected.