Stasis
Talk

0
1,710pages on
this wiki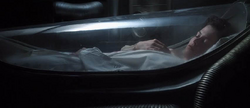 Stasis, known in practical applications as hypersleep, cryosleep or simply cryo, is a process that denotes the suspension of the passage of time for an object, typically a living subject. Its most common application is in long-distance interstellar travel, which — even at faster-than-light speeds — can take months or even years to achieve.
Stasis primarily revolves around the use of hypersleep chambers, simple cots with glass lids inside which crew members "sleep" for a large part of the duration of long-haul interstellar flights. During this sleep, the crew are effectively shielded from the effects of time, experiencing nothing and growing no older as time outside the cryotube passes normally.
These cryotubes are effective to the point of being able to sustain and suspend an individual for decades, although waking from such a lengthy period of stasis carries with it minor side effects, including nausea, exhaustion and dizziness, that may last for several days.[1] Similarly, being removed from stasis rapidly without a proper wake-up procedure, while not fatal, can produce similar conditions in the occupant.[2] While an individual cryotube can only sustain a single person, it seems smaller secondary occupants can be safely accommodated — Ellen Ripley and the cat Jones successfully shared a hypersleep chamber for 57 years, and both survived without any long-term adverse effects.
The benefits of stasis are twofold; not only does it prevent crew members from wasting large portions of their lifespan on travel, it also reduces the amount of food, water and other consumables required on long trips, thereby saving considerable weight and storage space on board the ship. Furthermore, as the vast majority of space flight is uneventful and straightforward, the vessel can be piloted by the on-board computer and as a result the human crew are not required to operate the ship's systems. However, the need for a trained crew during docking and landing procedures means that human personnel cannot be removed entirely. Similarly, unforeseen events may lead to the need for human intervention during the course of the journey. Stasis allows for the crew to be available at the required times, while also relieving them of their duty during the extended periods when they are not needed to operate the ship.
Behind the Scenes
Edit
The mechanics of stasis are never explicitly explored in the Alien franchise. Traditional science fiction concepts for stasis revolve around either biologically-induced deep sleep or the use of artificial energy fields that suspend time for anything that they encapsulate. Which of these hypersleep in the Alien universe relies on, or whether it uses some other means, is never elaborated upon.
References
Edit
↑ James Cameron (writer and director). Aliens [DVD]. 20th Century Fox.
↑ Vincent Ward (writer) and David Fincher (director). Alien3 [DVD]. 20th Century Fox.