| | |
| --- | --- |
| | This article covers a subject that has been deemed non-canon by either the author or the Alien vs. Predator licensees, and thus should not be taken as a part of the "real" Alien vs. Predator universe. |
The Outworld Hive was a Xenomorph Nest established in Outworld in the game Mortal Kombat X. The Outworld Hive is ruled by the Outworld Queen.
Overview
According to the
Tarkatan Xenomorph
's in-game biography, the Outworld Hive was founded in the distant past by a colony of Xenomorphs that arrived in the realm by unknown means. It was nearly destroyed when the native inhabitants fought back against the attempted invasion, but a single clutch of
eggs
survived in a remote cavern deep underground. During Kotal Kahn's reign as Emperor of Outworld, the dormant nest was found by a Tarkatan scouting party, causing their leader to be impregnated by a
Facehugger
. The resulting Tarkatan Xenomorph promptly slaughtered the scouts before setting out in search of victims to restore its hive.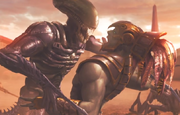 In its Arcade Ladder ending, the Tarkatan Xenomorph restores the Outworld Hive by harvesting the many kombatants it encountered across the realms. The hive's growth only accelerated when a new Queen was spawned, prompting Kotal Kahn to mount an all-out attack to stymie the renewed alien menace. His efforts were in vain; the Xenomorphs slaughtered the attackers and secured their dominance over Outworld.
Trivia
Appearances