G36
Production information
Manufacturer

Heckler & Koch GmbH

Type

Assault rifle

Technical specifications
Size

Length

75.8 cm (stock retracted, G36)
99.9 cm (stock extended, G36)

Feed system

30-round detachable box magazine

Fire mode(s)

Fully automatic
Semi-automatic

Ammunition
Operation

Short-stroke piston, rotating bolt

Rate of fire

750 rounds/min cyclic

Range

800 m (870 yd), 200–600 m sight adjustment

Usage
Era(s)

Late 20th-21st century

Affiliation

  [Source]
The Heckler & Kock G36 is a German-made assault rifle chambered in 5.56×45mm NATO.
Overview
The G36 was developed from the venerable 7.62mm G3 battle rifle (also developed and manufactured by Heckler & Koch). There are several different models in production, all with a common modular design that allows different barrel lengths and accessories to be interchanged quickly and easily. As with many Heckler & Koch weapons it has proved very popular and can be found in use with numerous militaries and law enforcement agencies around the globe.
History
G36C carbines fitted with the carry handle and integrated scope of the G36E, Surefire tactical flashlights and lime green laser lights were used by Weyland Industries mercenaries on October 10, 2004 during the exploration of the Yautja Pyramid discovered by Weyland Industries under Bouvet Island, Antarctica. However, the 5.56×45mm NATO rounds had little to no effect on the armor of the three Yautja that attacked the mercenaries.
Appearances
In Alien vs. Predator, Max Stafford and his Weyland mercenaries all carried compact G36C carbines fitted with the carry handle and integrated scope of the G36E, along with Surefire tactical flashlights and lime green laser lights.
In Alien Wars, the 2008 and 2012 versions of the Alien War attraction, G36V rifles — formerly known as the G36E (Export) — were used to replace the M41A Pulse Rifles used in the original, as the attraction was no longer tied with the Alien films. The G36 was likely chosen because of the prominent carrying handle on the rifle making it somewhat similar to the M41A. The G36 could have also been used as a reference to Alien vs. Predator.
Behind the scenes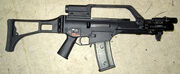 The non-firing G36C (and Desert Eagle) props used in Alien vs. Predator were supplied by airsoft store Wolf Armouries,[1] located in London, England,[2] who later offered to recreate the prop ("bar a few very minor details") for interested clients via their website.[1]
The G36C's appearance in Alien vs. Predator is one of the earliest appearances of the carbine in film, preceded only by Lara Croft Tomb Raider: The Cradle of Life (2003) and Bad Boys II (2003).[3] It has gone on to appear in many films, television series and video games since,[3] often being used due to its perceived futuristic appearance.
Trivia
Gallery
Alien vs. Predator
Alien Wars
Videos
References
↑ https://www.facebook.com/photo.php?fbid=409679032419015&set=a.409678799085705.100770.222654304454823&type=3&theater
↑ https://www.facebook.com/photo.php?fbid=409679059085679&set=a.409678799085705.100770.222654304454823&type=3&theater
↑ https://www.facebook.com/photo.php?fbid=409678909085694&set=a.409678799085705.100770.222654304454823&type=3&theater
↑ https://www.facebook.com/photo.php?fbid=409678945752357&set=a.409678799085705.100770.222654304454823&type=3&theater