H. R. Giger
Talk

0
2,566pages on
this wiki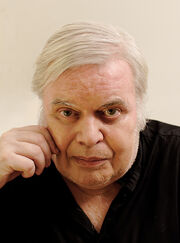 Hans Rudolf "Ruedi" Giger (February 5, 1940 – May 12, 2014) was a Swiss surrealist painter, sculptor, and set designer[2] who designed the Alien creature for the 1979 film Alien. His initial design has since been adapted, modified and re-envisioned by others (and himself) for the subsequent movies, video games and other media of the Alien, Predator and Alien vs. Predator franchises.
As well as the adult Alien, Giger also designed the derelict spacecraft, Facehugger and Egg in Alien, and later worked on designs for the Alien, "Aquatic Facehugger", Chestburster and Alien skin in the 1992 film Alien3 (although these designs were ultimately rejected) and the murals seen inside the Engineer Temple in the 2012 film Prometheus.[3] Other notable films Giger worked on include Species (1995).
For his work on Alien, Giger won an Academy Award for Visual Effects.[4][5] He is primarily known for his disturbing, "biomechanical" style. He was inducted into the Science Fiction and Fantasy Hall of Fame in 2013.[6][7] On May 12, 2014, Giger died in a hospital in Zürich, Switzerland after having suffered injuries in a fall at the age of 74.[2][8][9][10]
Concept art
Edit
References
Edit