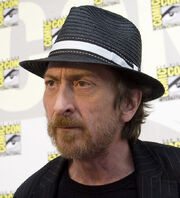 Frank Miller (born January 27, 1957) is an American writer, artist and film director who worked on the comics Dark Horse Presents Fifth Anniversary Special and X #18 for Dark Horse Comics. He is perhaps best known for his dark comic book stories and graphic novels such as Ronin, Daredevil: Born Again, The Dark Knight Returns, Sin City and 300.
Cover artist
Edit
Aside from his work on Aliens and Predator comics, the short story Martha Washington's War Diary by Miller and Dave Gibbons was given away as a free mini-comic with Aliens magazine, Vol. 2 #1.
Ad blocker interference detected!
Wikia is a free-to-use site that makes money from advertising. We have a modified experience for viewers using ad blockers

Wikia is not accessible if you've made further modifications. Remove the custom ad blocker rule(s) and the page will load as expected.