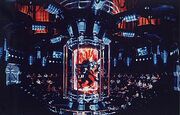 ExtraTERRORestrial Alien Encounter was a science fiction horror attraction in the Tomorrowland section of the Magic Kingdom theme park at Walt Disney World Resort in Florida.[2] The attraction replaced the aging Mission to Mars attraction,[2] and officially opened in 1995.[3] The attraction contained a detailed back story, in which guests were invited to see a demonstration of advanced teleportation technology.[2] After watching a pre-show, guests sat in a circular theater, where an alien menaces them.[2] The attraction closed in 2003 and was replaced with Stitch's Great Escape.[2] While the attraction was short-lived, it has since developed a cult following among Disney fans.[2]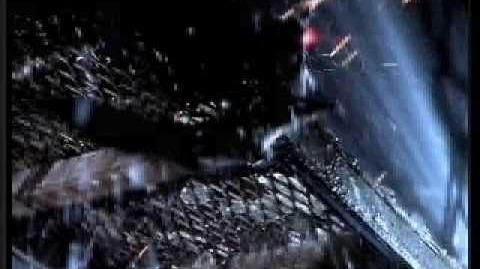 The attraction was originally going to be based on Alien.[5] Using the story and settings from Alien as a starting point, the Imagineers created a concept for a hi-tech interactive attraction they called "Nostromo".[5] On this proposed attraction, guests were supposedly on a rescue mission and would have rolled through the corridors of the USCSS Nostromo riding inside of heavily armored vehicles (likely inspired by the APC in Aliens) and armed with laser cannons..[5] Their goal was to find the missing members of Nostromo's crew as well as rid the spaceship of Xenomorphs.[5] However, in the end, WDI opted not to go forward with the Alien ride project, as certain senior members of the Imagineering staff voiced concerns that any ride that featured the Aliens might be too dark and intense for Disney's family-based audience and were troubled by the image of "children blasting space monsters with laser cannons.", saying, "Walt would never have approved of a ride like this".[5] The promotional department at Disney still used a likeness of the Alien for promotions of the upcoming show, however,[6] such as in the video in the upper right.[4] Nevertheless, there is an attraction at Disney's Hollywood Studios called The Great Movie Ride, which features a small area aboard the Nostromo where a frightened Ripley hides behind a wall while Aliens pop out of the walls and ceiling to growl at the audience.[5]
External links
Edit
References
Edit
↑ 2.0 2.1 2.2 2.3 2.4 2.5 http://themeparkinvestigator.com/in-memoriam-extraterrorestrial-alien-encounter/
Ad blocker interference detected!
Wikia is a free-to-use site that makes money from advertising. We have a modified experience for viewers using ad blockers

Wikia is not accessible if you've made further modifications. Remove the custom ad blocker rule(s) and the page will load as expected.