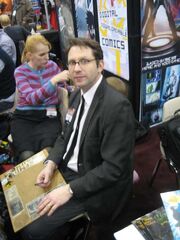 Evan Dorkin (born April 20, 1965) is an American comic book writer and artist who worked on the comics Predator: Big Game and Predator: Bad Blood, as well as its prequel short story, for Dark Horse Comics.
Dorkin's first contribution to the line was as artist and co-creator on the second Predator series, the much-acclaimed Predator: Big Game in 1991, the first series to move the story beyond the movie mythos with the introduction of its hero, Native-American Corporal Enoch Nachai.
His second contribution was as writer on the equally gory and hard-hitting Predator: Bad Blood in 1993-4, which introduced the idea of rogue, homicidal Predators called Bad Bloods.
Interior artist
Edit
Ad blocker interference detected!
Wikia is a free-to-use site that makes money from advertising. We have a modified experience for viewers using ad blockers

Wikia is not accessible if you've made further modifications. Remove the custom ad blocker rule(s) and the page will load as expected.