The Eurocopter AS350 AStar, known in France as the Écureuil (Squirrel), is a French-made single-engine light helicopter originally designed and manufactured by Aérospatiale (later Airbus Helicopters). A visually similar twin-engine variant, the AS355 TwinStar (known in France as the Écureuil 2), has also been produced.
Appearances
In Predator 2, Peter Keyes and his OWLF team use a silver AS355 TwinStar with the tail number N500NM to move around Los Angeles. Following the disastrous failure of their mission to capture the City Hunter, Garber and the remaining OWLF personnel flee the authorities in the helicopter.
In Alien vs. Predator, Max Stafford uses a Weyland Industries AS350 with the tail number F-GTTB to retrieve Lex Woods from Mount Everest in Nepal.
Behind the scenes
In Alien vs. Predator's script and novelization, the helicopter Stafford uses is a Bell 212.[1] A different Bell helicopter, the Bell 205, was later featured in the film's sequel, Aliens vs. Predator: Requiem.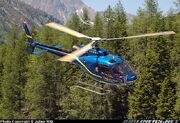 The helicopter used in the film, registration F-GTTB, was provided by Chamonix Mont Blanc Hélicoptères (who were listed in the film's credits), although it was repainted sometime after the film. The helicopter was operated by the company until it was destroyed in 2009.
Trivia
The "F" prefix on the helicopter's registration indicates that it is a French helicopter.
Videos
External links
References
↑ Marc Cerasini. Alien vs. Predator, p. 31 (2004), HarperEntertainment.