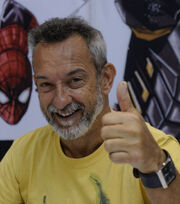 Eduardo Risso (born November 23, 1959) is an Argentine comic book artist who worked on the comics Alien Resurrection and Aliens: Wraith for Dark Horse Comics. He is known for his beautifully composed, noir-style comics art.
In the American comics field, Risso would eventually become known for his years-long collaboration as artist on the entire run of the DC/Vertigo Comics series 100 Bullets with writer Brian Azzarello from 1999-2008. Risso has since won four Eisner Awards for his work on 100 Bullets: In 2001, for the Best Serialized Story (with Brian Azzarello); twice, in 2002 and 2004, for the Best Continuing Series (with Azzarello); and in 2002 for Best Artist. Risso is also known in the Argentine and European comics fields for his collaborations with writers Ricardo Barreiro and Carlos Trillo. He has also done popular work for Heavy Metal Magazine and Marvel Comics, among others.
Biography
Born in Leones in Córdoba Province, Argentina in 1959, Risso started as a cartoonist in 1981, drawing his first collaborations for the morning paper La Nación and the magazines Erotiocon and Satiricon, all of which published by Columba editions. In 1986, he worked for Eura Editoriale of Rome, Italy, and in 1987 he drew Parque Chas, scripted by Ricardo Barreiro. The series was first published by Fierro in Argentina, comic history, and then by Totem in Spain, Comic Art in Italy and finally the complete series as an album in France, Germany, Denmark, Belgium, the Netherlands, Poland and the United States of America In 1988, he drew Cain, again scripted by Barreiro.
Later that same year, Risso did Fulù, scripted by Carlos Trillo, published in Italy, France, Germany, Portugal, the Netherlands and in Argentina in the Puertitas magazine. The Trillo-Risso duo have also created Simon: An American Tale, published in Italy and France, Borderline, published in Italy and Chicanos, published in Italy and France.
After his work with Aliens for Dark Horse from 1997-1998 and a number of concurrent stories for Heavy Metal Magazine, Risso would embark upon the collaboration that would come to best define his artistic output for the next ten years when he drew the crime miniseries Jonny Double for DC Comics's adult-oriented Vertigo line, written by Brian Azzarello. The next year, the duo would begin 100 Bullets for Vertigo: a labyrinthine crime and political espionage thriller that would last 100 issues and consistently serve as one of the company's top titles for the next decade. Risso would also contribute to other DC Comics along the way, mostly for the company's headlining Batman line. Other assignments have included Spider-Man and Wolverine for Marvel, Red Sonja for Dynamite Entertainment, Transmetropolitain and other titles for Vertigo, and Superman, The Spirit, JSA and various pin-ups for DC.
Risso was not the first, and nor would be the last, Argentine artist to contribute to the A/P/AVP franchises for Dark Horse. He was preceded by Leo Duranona (Predator: Blood Feud) and Enrique Alcatena (Predator: The Pride at Nghasa), and was followed by Francisco Solano López (Aliens: Kidnapped) and Ariel Olivetti (Alien vs. Predator: Fire and Stone). Since 2000, Risso and Alcatena were both also represented for the sale of their work by artists agency Red Sector Art, though Alcatena left the agency on amicable terms in 2009.
Today, Risso continues to be one of the most critically acclaimed and in-demand artists working in the field and it was recently announced that Vertigo plans a reunion of the 100 Bullets team of Azzarello and Risso on "a top-secret" new Vertigo project for 2011.
Credits
External Links
Eduardo Risso's official site on Red Sector Art: http://redsectorart.com/risso/index.php
Eduardo Risso's profile on Lambiek's Cartoonpedia: http://lambiek.net/artists/r/risso_eduardo.htm