Eddie Powell
Born

March 9, 1927

Died

August 11, 2000

Nationality

English

Appearances
IMDb

  [Source]
Eddie Powell (March 9, 1927 – August 11, 2000) was an English stunt performer and actor who portrayed the eponymous Alien in the 1979 film Alien during the scenes where Brett and Dallas are attacked and the Alien Warriors in the 1986 film Aliens. Other notable films Powell appeared in include Where Eagles Dare (1968), A Bridge Too Far (1977), Indiana Jones and the Last Crusade (1989), Batman (1989), Robin Hood: Prince of Thieves (1991) and multiple films in the James Bond series.
"The other, um, sci-fi film I'm known for is a film that Ridley Scott did on the Alien, and I was brought in to play the Alien. Um, the original person pulled out right at the very beginning, didn't want to know about it, so I took over. And, um, I said to the producer three-quarters of the way through the film that, uh, I hope I'm going to get the main credit for this. [...] I just got it for the action for the Alien, which really upset me."
―Powell in the 1995 documentary Dalekmania[1]
When it was still planned to have the Alien costume be transparent, Powell donned one of the prototype costumes. Plaster casts of Powell were also made, presumably to construct a costume that fit him. For Powell (and main Alien actor Bolaji Badejo), putting on the Alien costume was a "terrible ordeal", taking at least an hour to get ready. Additionally, Powell couldn't "see a thing" once inside the suit.[2]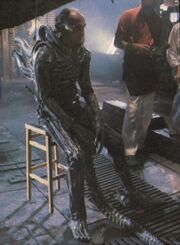 Powell portrayed the Alien during Brett (Harry Dean Stanton)'s death scene. Wearing a steel wire rig, Powell was strung up above the Nostromo's landing gear. Scenes filmed with Powell included him being curled up, dangling above Brett and then slowly unfolding himself in a "Christ-like" fashion, close-ups of the Alien "admiring" and then attacking Brett and close-ups of the Alien's head. Director Ridley Scott made the scene be reshot numerous times until he was satisfied with the results, making Powell have to endure being hung upside down constantly and quickly hoisted up into the air.
In addition to Brett's death scenes, Powell portrayed the Alien when it attacked Dallas inside the ship's air ducts, as Badejo was too large to fit in the ducts.
Although the "Christ-like" shots of Powell in the Alien costume were cut from the 1979 theatrical release of the film, one of them was reinstated in the 2003 Director's Cut and the rest made it as extra footage on the Alien Quadrilogy box set. As Scott only wanted to show glimpses of the Alien, the additional close-ups of the Alien were also cut from the theatrical release.
Filmography
Edit
Year
Title
Notes
1958
The Vikings
Uncredited
1959
The Mummy
Uncredited
1961
The Guns of Navarone
Uncredited
1963
A Place to Go
Uncredited
Jason and the Argonauts
Uncredited
From Russia with Love
Uncredited
1964
The Curse of the Mummy's Tomb
1965
She
Uncredited
1966
Dracula: Prince of Darkness
Uncredited
Daleks' Invasion Earth 2150 A.D.
1967
You Only Live Twice
Uncredited
The Mummy's Shroud
1968
The Devil Rides Out
Uncredited
The Lost Continent
Dracula Has Risen from the Grave
Uncredited
Where Eagles Dare
Uncredited
1970
Taste the Blood of Dracula
Uncredited
Kelly's Heroes
Uncredited; with Harry Dean Stanton
Scars of Dracula
Uncredited
1971
Diamonds Are Forever
Uncredited
1972
Dracula A.D. 1972
Uncredited
1973
Live and Let Die
Uncredited; with Yaphet Kotto
1974
The Mutations
The Man with the Golden Gun
Uncredited
1976
To the Devil a Daughter
Uncredited
1977
The Spy Who Loved Me
Uncredited; with Clive Curtis, Nick Gillard and Roy Scammell
1978
The Boys from Brazil
1979
Dracula
Alien
1980
The Sea Wolves
Uncredited
Flash Gordon
With John Lees and Roy Scammell
1981
For Your Eyes Only
Uncredited; with Clive Curtis, Charles Dance, Nick Gillard, John Lees and Roy Scammell
1983
Octopussy
Uncredited; with William H. Burton, Jr., Clive Curtis and Tip Tipping
Never Say Never Again
Uncredited; with Clive Curtis and Tip Tipping
Krull
Uncredited; with Nick Gillard and Tip Tipping
1984
Top Secret!
With Clive Curtis and Mac McDonald
1985
Howling II: Stirba - Werewolf Bitch
A View to a Kill
Uncredited; with Simon Crane, Clive Curtis and Trevor Steedman
Enemy Mine
Legend
Uncredited; with Nick Gillard, directed by Ridley Scott
1986
Aliens
Half Moon Street
Uncredited; with Andy Lucas, Mac McDonald and Sigourney Weaver
1987
The Living Daylights
Uncredited; with Nick Gillard
1988
Buster
With Ralph Brown, Vincenzo Nicoli and Tip Tipping
High Spirits
Willow
With Simon Crane, Nick Gillard, Roy Scammell and Tip Tipping
1989
Indiana Jones and the Last Crusade
With Simon Crane, Nick Gillard, Paul Maxwell and Tip Tipping
Batman
With Carl Chase, Simon Crane, Clive Curtis, Christopher Fairbank, Leon Herbert, Mac McDonald, Mark Anthony Newman and Tip Tipping
Erik the Viking
Uncredited
1990
Nuns on the Run
With Roy Scammell
Shipwrecked
1991
The Miracle
Uncredited
Robin Hood
Uncredited; with Danny Webb
A Kiss Before Dying
Robin Hood: Prince of Thieves
With Simon Crane, Clive Curtis, Nick Gillard, Mark Anthony Newman, Denise Ryan, Tip Tipping and Michael Wincott
1996
Daylight
With Dan Hedaya, John Lees, Mark Anthony Newman and Mark Rolston
External Links
Edit
References
Edit