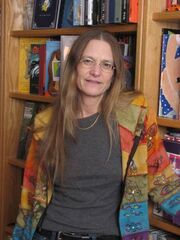 Diana Schutz (born 1955) is a comic book editor who has worked on several comic books in Dark Horse Comics' Aliens, Predator and Aliens vs. Predator lines; Schutz is notable for overseeing the first Aliens vs. Predator series, as well as the first cross-over series Batman versus Predator, both of which proved hugely influential. She also oversaw the popular Bug Hunt letter column in Aliens magazine.
One of the most well-respected editors in the field working for various independent comics companies, Schutz has also worked on some of the most influential comics series ever produced over the past three decades of her storied career. Her other influential comic book editing work has included the Mage and Grendel series by Matt Wagner, the Sin City series by Frank Miller — also now published by Dark Horse — and numerous other works. Known for her avid and frank raport with fans through comics letter columns, Schutz oversaw the Bug Hunt letter column in Aliens magazine, often printing even negative or critical letters in the name of fairness and balance, though always with open-minded counter arguments.
In total Schutz worked on six early and important comics releases for the three lines.
Aliens vs. PredatorEdit
Ad blocker interference detected!
Wikia is a free-to-use site that makes money from advertising. We have a modified experience for viewers using ad blockers

Wikia is not accessible if you've made further modifications. Remove the custom ad blocker rule(s) and the page will load as expected.