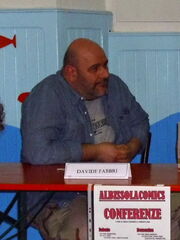 Davide Fabbri is an Italian comic book artist who worked on the comic Alien vs. Predator: Sand Trap for Dark Horse Comics.
Biography
Edit
Fabbri got his advent into the American comics industry with Dark Horse Comics as an artist on the company's Star Wars line, working on numerous Star Wars comics throughout the 2000s, including Star Wars: Empire and others.
Most recently, Fabbri teamed with Aliens/Predator/Aliens vs. Predator veteran writer Ian Edginton to work on the miniseries The Bleed for Wildstorm Comics.
Alien vs. Predator: Sand Trap was a one-shot DVD-release promo comic book released with an exclusive DVD set released exclusively at Best Buy. It has yet to be re-released or reprinted elsewhere.
Ad blocker interference detected!
Wikia is a free-to-use site that makes money from advertising. We have a modified experience for viewers using ad blockers

Wikia is not accessible if you've made further modifications. Remove the custom ad blocker rule(s) and the page will load as expected.